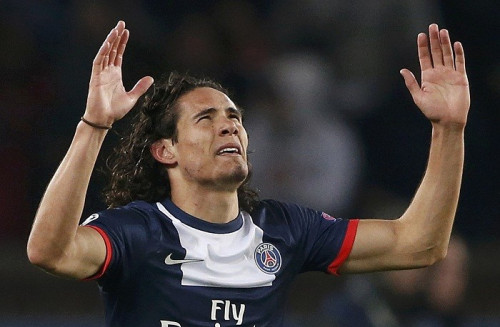 Manchester United and Chelsea are set to battle it out for Paris Saint-Germain striker Edinson Cavani in the summer with his agent currently in London talking to interested parties over a viable financial deal, according to the Daily Mail.
Arsenal are also believed to be interested but the real battle for the £54m-rated striker is expected to be between David Moyes and Jose Mourinho who are willing to pay PSG's asking price for the Uruguayan.
The striker has been in good form for the French side but is not enjoying the wide role he has been deployed in in order to accommodate Zlatan Ibrahimovich as the central figure.
The Blues are in the market for a striker and 26-year-old's arrival will give them a major impetus going forward which has been majorly lacking this season.
Manchester United are also looking to spruce up their front line, with Javier Hernandez expected to leave the club at the end of the season. Robin van Persie has entered his thirties and has been missing for most of this season with injury while Wayne Rooney is yet to sign a new contract with the Red Devils.
Moyes tried to get his man in January but were repudiated by PSG who are likely to be more forthcoming in the summer.
The likes of Diego Costa and Mario Mandzukic also feature heavily in their plans should PSG refuse to part with their star player. Chelsea are currently third in the league, level on points with Manchester City and two behind leaders Arsenal with 14 games to go till the end of the season.
Meanwhile, Manchester United have fallen away in the race, currently 15 points behind the Gunners and seven behind Liverpool in the race for the top four.
David Moyes has already brought in Juan Mata from Chelsea this January and is planning a massive splurge in January to resurrect their title hopes.