Manchester United 0-0 Shakhtar Donetsk
Real Sociedad 0-1 Bayer Leverkusen
FC Copenhagen 0-2 Real Madrid
Galatasaray 0-0 Juventus (abandoned)
Benfica 2-1 Paris Saint Germain
Olympiakos 2-1 RSC Anderlecht
Bayern Munich 2-3 Manchester City
Viktoria Plzen 1-1 CSKA Moscow
9:35pm: Full time is upon us. Manchester United have won group A, while Manchester City will face a tough side after finishing second in Group D. They came so close to turning it around though!
9:33pm: A successful night for both Manchester sides by the looks of it with United recovering from their poor league form with a confidence boosting victory and City making waves with a win against the current Champions League champions.
9:28pm: United fans have picked up a lot since their goal and the side should feel positive if they can take a win from tonight. They had qualified in the group anyway and Shakhtar have a lot more to play for than them.
9:25pm: Dante has been particularly off for Bayern tonight and the defender is once again left behind by Cityas they have a decent chance on goal. They could still win the group. We're in the final 15 minutes...
9:16pm: GOAL! Viktoria Plzen even the scores with Moscow 1-1
9:13pm: And United and City continue to mirror each other. While the former are on the road to a much-needed win the latter are about to have a huge confidence boost if they can hold on and keep their lead against the current Champions League champions.
9:12pm: This is disastrous for Shakhtar with Leverkusen up 1-0 at the moment. As it stands the German side will go through.
9:10pm: GOAL! Once again I speak too soon - Phil Jones scores to take United up 1-0 over Shakhtar.
9:08pm: Come on Old Trafford, where are your goals?! United have now had 8 shots compared to Shakhtar's 14. They've had five each on target and for United it's currently looking like they migh, just, hold on.
9:05pm: GOAL! Manchester Cty go up 3-2 over Bayern Munich. The seemingly impossible has happened!! and once again James Milner was instrumental in the side going ahead against the Champions League winners.
9:04pm: GOAL! Benfica go up 2-1 over PSG.
9:02pm: GOAL! Olympiakos make big strides in their fight for qualification for the last 16, going up 2-1 against RSC Anderlecht.
9:01pm: GOAL! Manchester City even the scores 2-2 after taking a successful penalty against Bayern.
9:00pm: PENALTY! Manchester City have a penalty and a chance to even the scores thanks to Dante, who fouled James Milner in the box.
8:53pm: GOAL! Cristiano Ronaldo is on target as Real Madrid go up 2-0 against Copenhagen.
8:50pm: GOAL! Bayer Leverkusen go up 1-0 over Real Sociedad
8:50pm: And the match is abaonded in Istanbul!
8:47pm: And for the rest of the games it's back to the pitch. Can United turn it around? They've got the majority of possession but aren't finding the chances Shakhtar are. And will Pellegrini being on Aguero to get the goal machine going in Munich?
8:47pm: An update on Galatasaray's match with Juventus - the lines are being painted orange and the snow has stopped falling - these are positive signs! Looks like they are hoping that play can begin again soon.
8:37pm: Here's a good picture of the weather in Galatasaray that halted the match with Juventus. The officials are still conferring over whether to continue...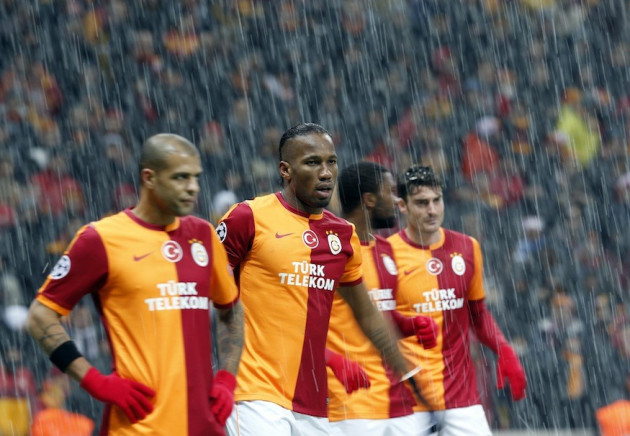 8:32pm: Half-time is fast approaching for all the sides, with United going into the tunnel without a goal while City will look for a very exciting second half if they hope to win their group.
8:32pm: GOAL! Benfica equalise with PSG 1-1.
8:30pm: GOAL! PSG go up 1-0 against Benfica.
8:28pm: It's like a broken record for Manchester United, with their midfield once again being exposed by the opposition. Shakhtar are seeing much more of their goal than the home side and with no creativity in the middle of the park, you've got to think Moyes is looking forward to the January window opening more than ever.
8:24pm: GOAL! RSC Anderlecht level 1-1 with Olympiakos.
8:23pm: The match between Galatasary and Juventus has been hlated due to snow on the pitch! There's been terrible weather conditions during the match and it looks like it's become uplayable. The groundsmen are currently cleaning the surface though in the hopes of restarting soon.
8:20pm: GOAL! Olympiakos go up 1-0 against RSC Anderlecht.
8:19pm: Over at Manchester United there's been a lot less drama than their rivals but Wayne Rooney is starring for the side who will finish at the top of their gropu if results stay as they are.
8:15pm: GOAL! City make a big wave to turn it around, and make the scoreline 2-1 against Bayern thanks to David Silva, who beat Dante to score from just six yards out. City need to win 4-2 to win their group. It's possible!!
8:13pm: Here's a stat for you via Infostrada Sports - This is a new record for a side scoring in successive European games, as Madrid score in 31 consecutive matches. That's one more than Barcelona (30).
8:12pm: GOAL! And something happens away from Bayern and City! Real Madrid go 1-0 up against Copenhagen.
8:10pm: Apart from City and Bayern it's very quiet on the goal front. Perhaps the biggest match of the evening is Juventus and Galatasaray, with the Turkish outfit able to qualify over the Serie A champions if they win the match. It's currently 0-0 but both sides have had their chances.
8:07pm: It's looking worse for City though in terms of their shots on goal, with 1 compared to Bayern's 6.
8:05pm: Meanwhile at Old Trafford United are dominating possession with 67%. They haven't been able to do much with it though, having 1 shot compared to Shakhtar's 3.
8:02pm: City's defending is currently shocking and Bayern are making them pay. The German side are currently holding 67% of possession as well... this could turn out to be very embarrassing if Pellegrini doesn't turn it around.
7:58pm: GOAL! Bayern Munich are now up 2-0. Mario Gotze piles the pain on City and it would appear I spoke too soon about Joe Hart. City are now down 2-0 within 12 minutes.
7:56pm: City are now facing an uphill battle to turn around the match, though Joe Hart appears to have quickly recovered from his slow start to make more of a positive impression for the side.
7:51pm: GOAL! Bayern Munich go up 1-0 over Manchester City. Thomas Muller takes the score while Dante provided the assist. City in trouble after just five minutes!
7:50pm: It's the opposition on top at the moment with Bayern Munich enjoying the vast majority of possession while Shakhtar Donetsk have made a good start against United.
7:45pm: And we're off!!
7:40pm: Elswhere in United's group Bayer Leverkusen's match with Real Sociedad will be a tough one with the German side on 7 points and hoping to overtake Shakhtar. The same applies for Manchester City's group, with CSKA Moscow and Viktoria Plzen a mimimum of 9 points away from qualification for the next round.
7:35pm: One particularly interesting point about both English sides competing tonight is that after competing for the title last season they are both going through similar periods of transitions with new managers in the current campaign. City have faired betteri n the league, currently sitting in fourth place, while the pressure is on David Moyes as the usually title challenging Red Devils sit ninth. The Champions League has seen both sides doing well though and this will by Moyes' chance to steady his ship who have failed to win a match in their last four league games.
7:30pm: While Manchester United and Manchester City are both guarranteed a pathway into the final 16 of the Champions League both sides are out to prove themselves tonight. United are hoping to confirm their place at the top of Group A, while for City only a win over Bayern by at at least a 3-1 scoreline will sway the Group D table in their favour to finish at the top. But for Manuel Pellegrini's men, this is a chance to show that they are able to stand tall alongside Europe's biggest sides and they will be a force in their first showing in the final 16 of the modern competition.
7:26pm: Line-ups for Manchester United v Shakhtar Donetsk
Man Utd: De Gea, Rafael Da Silva, Ferdinand, Evans, Buttner, Jones, Giggs, Young, Kagawa, Januzaj, Rooney. Subs: Lindegaard, Anderson, Hernandez, Nani, van Persie, Cleverley, Valencia.
Shakhtar Donetsk: Pyatov, Srna, Kucher, Rakitskiy, Shevchuk, Fred, Stepanenko, Douglas Costa, Alex Teixeira, Taison, Luiz Adriano. Subs: Kanibolotskiy, Hubschman, Bernard, Eduardo, Fernando, Ferreyra, Kryvtsov.
7:25pm: Line-ups for Bayern Munich v Manchester City
Bayern Munich: Neuer, Lahm, Boateng, Dante, Alaba, Thiago, Muller, Gotze, Kroos, Ribery, Mandzukic. Subs: Starke, Van Buyten, Javi Martinez, Shaqiri, Rafinha, Pizarro, Contento.
Man City: Hart, Richards, Lescott, Demichelis, Kolarov, Milner, Javi Garcia, Jesus Navas, Silva, Fernandinho, Dzeko. Subs: Pantilimon, Kompany, Zabaleta, Negredo, Aguero, Rodwell, Boyata.
7:20pm: Hello and welcome to the IBTimes UK live blog for the beginning of the end of the Champions League 2013 group stages. Tonight Manchester United take on the Ukrainian side Shakhtar Donetsk with the side hopeful of sealing top place in Group A, while Manchester City look to take their chance against current Champions League champions Bayern Munich with a win in Germany.