Paris Saint Germain are believed to be interested in signing Manchester United and City target Wesley Sneijder, according to reports in France, with the playmaker looking very likely to leave Inter Milan in January.
Sneijder is currently in a contract standoff with Inter, with the side insisting that he sign a new deal and take a pay cut while he's left on the bench in the meantime.
In fact, the Holland international hasn't featured for the Italian outfit for two and a half months, alerting the likes of Manchester United and Manchester City to his services.
But if either club hopes to land the star, they may face a tough fight from PSG, for whom money is no option under their new billionaire Qatari owners.
L'Equipe claims that PSG president Leandro has been in constant contact with Sneijder, and if the club do come into the fray to land the 28 year old they will likely to be able to match his wage demands as well as a top transfer price.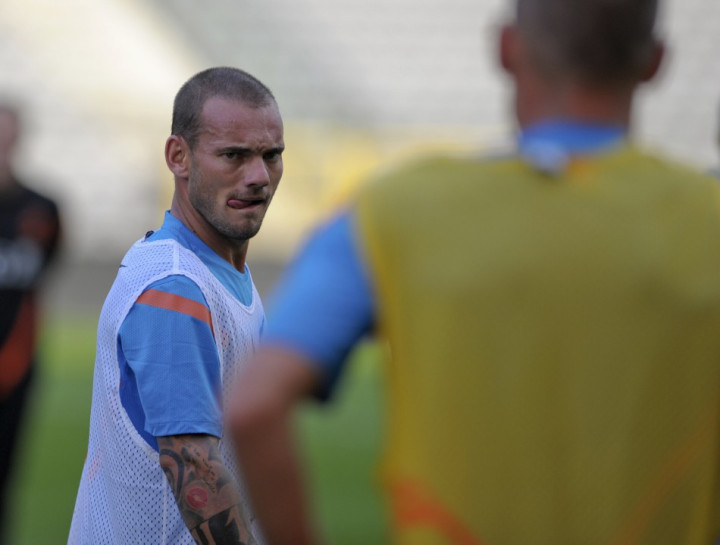 United have already lost out to PSG this year on one of their targets, with Brazilian youngster Lucas Moura making the choice to go to Paris over Old Trafford for around €45 million. Sir Alex Ferguson was particularly enraged over the deal because the fee was so high for a player of such a young age and with no experience in the Premier League.
United have reportedly been targeting Sneijder for some time, with the former Ajax man particularly connected with the club in the 2011 summer.
No deal eventuated, with wage demands believed to be the stumbling block for Ferguson, who at the time was on the lookout for a replacement for the retired Paul Scholes.
City came into the mix in the 2012 summer, but again, with the current wage deal at Inter clubs have been hesitant over taking a risk on a player who could be getting to the tail end of his career.
But with Inter's refusal now to pay his current wages as well, both clubs could be able to do a deal within a more realistic budget.