Manchester City are believed to be reconsidering their interest in United playmaker target Wesley Sneijder, according to reports, with the Inter man continuing to be overlooked by his coach as he refuses to sign a new deal.
Sneijder has been a long-standing target for the Red Devils, with the 28 year old believed at one point to be a possible replacement for Paul Scholes.
His wages and transfer cost scuppered any possibility of a move to United, with the star believed to be on £200,000 per week in Italy, where tax breaks are more favourable for footballers than in England.
But Inter Milan appear just as keen to decrease Sneijder's wage as United would have been, insisting that he sign a new contract with reports speculating that the side have left him in the cold while he stalls on agreeing to the new deal.
Massimo Morrati denied that such a situation had happened, and Inter coach Andrea Stramazzioni backed up the president over his selection policies.
"I think I have spoken about this argument in an exhaustive way, as has the president [Massimo Morrati]," he said. "All the choices over all the Inter players, I repeat, are only my evaluations.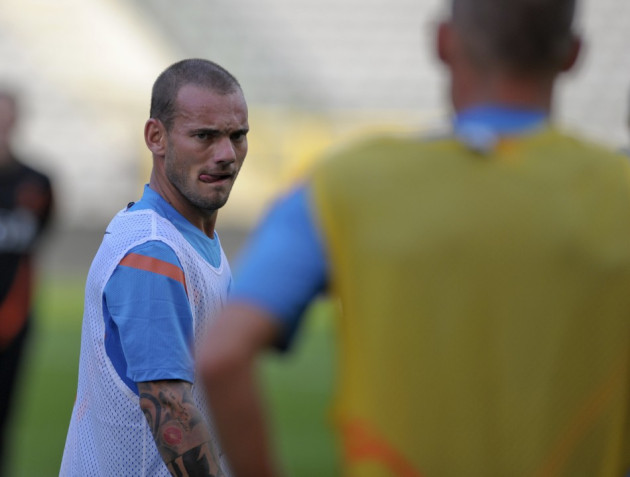 "So, also for Sneijder it will be only the coach's choice. I take responsibility for this.
"He feels good, he's training with his team-mates. I ask you not to ask me any more questions on this."
And now the Manchester Evening News has reported that while both City and United are monitoring the situation regarding Sneijder, the former are now reconsidering whether to make a bid after their early exit from the Champions League left them looking at receiving limited funds from TV revenue for the second season running.
With the Financial Fair Play rules coming into full force, City need to be careful with their spending, and are already scaling back on the big buys, undergoing a more modest summer to show they are working with their current squad rather than continuing to spend big on new players.
United have bolstered their midfield with summer signings Shinji Kagawa and Nick Powell, but Ferguson is still believed to be an admirer of Sneijder, and if he were available at a cut-price fee the Scot could be tempted into bringing him in to provide a bridge between younger players and the likes of Scholes and Giggs.
But if neither City or United are interested come January, the Dutchman may have to continue his standoff with Inter as he looks for a lucrative move elsewhere.