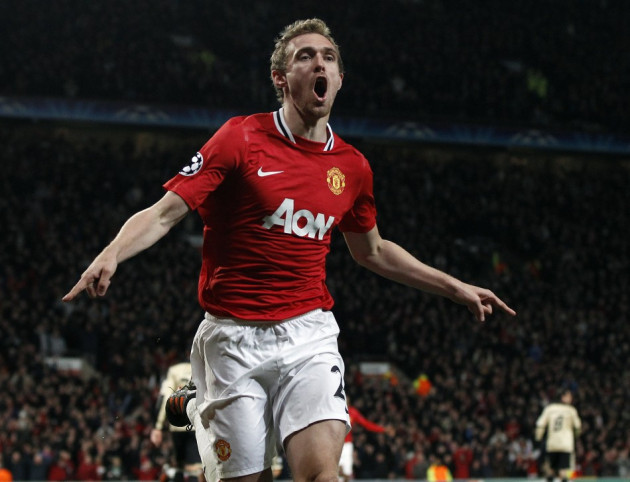 David Moyes' start to life at Manchester United could be handed a huge boost amid reports that Darren Fletcher is set for an incredible return to the club in time for pre-season training.
The Scottish midfielder has been plagued by a chronic bowel condition that has curtailed his career in two consecutive seasons, forcing him to undergo surgery in efforts to resolve the issue.
But a report from the Mirror suggests the 28-year-old has made remarkable progress since undergoing a second operation in May, and could be in a position to return to pre-season training as the club begin life with another Scot at the helm.
The dynamic midfielder was originally diagnosed with ulcerative colitis in November 2011 which forced him into an extended break from football. After missing the remainder of the 2011/12 season, Fletcher returned in October last year, coming on from Paul Scholes to a standing ovation from all in attendance at Old Trafford.
Surgery for his on-going battle with illness forced the Scot to bring an early end to his season by its half-way point in what Untied described as a "planned procedure", and having made a speedy recovery from a second spell under the knife last month, the midfielder is making rapid progress ahead of a return in time for the start of the new season.
Following the retirement of Paul Scholes, Fletcher's return could not have come at a better time. Although United are expected to invest in at least one new addition to their midfield during the transfer window, the Scotland international's presence in the squad could be imperative as Moyes prepares to lead the club into a new age.
A return would mark a remarkable turnaround from a stage where some in the United contingent doubted whether Fletcher would ever be able to play again.
Former United player Paddy Crerand painted a particularly bleak picture of the midfielder's future when he suggested Fletcher had played his last game for the club in a 4-3 win over Newcastle United on Boxing Day last year.
"I love Darren Fletcher and I hate to say this, but I wouldn't expect to see him playing again for Manchester United," Crerand was quoted as saying just over two months ago.
"It's a dreadful thing to say and I hope I'm totally wrong, but I don't think I'm going to be wrong. He's not been heard of, he's not played anywhere, he's not done anything and I think it would be a miracle if he came back."