The ongoing hype and hysteria surrounding David de Gea ratcheted up yet another notch earlier in March following the pivotal display from the hugely gifted Spaniard that helped Manchester United secure a 1-0 victory over Newcastle United on a controversial evening at St James' Park.
While it was Ashley Young, a player who has been much improved under manager Louis van Gaal's leadership this term, who scored the goal that helped the club retain their grip on fourth place in the Premier League despite increasing pressure from a rejuvenated Liverpool, De Gea once again took the majority of the plaudits due to two fine saves to add to a collection that already features a number of outstanding efforts.
The 24-year-old's increasingly impressive form could come at a crucial time for his own personal progress, as well as that of his club.
This is because the Professional Footballers' Association typically commences the voting process for its player of the year award around February and March, despite the results not being officially announced until late April in a typically glitzy ceremony that, in 2014, rightfully toasted the achievements of Luis Suarez during what was to be his final season at Liverpool.
The success of goalkeepers throughout the history of this particular gong has been scarce at best, no doubt to the chagrin of that particularly tight-knit and vocal union. Pat Jennings and Peter Shilton are the only two non-outfield players to have collected the award since its inception in 1974 and the latter's triumph during his time at Nottingham Forest was all the way back in 1978.
It is then about time that football's most scrutinised custodians were spoken of in such glowing terms again and in De Gea they simply could not wish to boast a better candidate for the 2014-15 award.
To dismiss his claims to a prize that too often only rewards attacking brilliance would be to indulge in shameful ignorance of De Gea's remarkable rise from promising but extremely timid hopeful to accomplished and formidably confident star.
De Gea suffered early criticism at Old Trafford
It is no secret that there was an initial struggle on De Gea's part to adapt to the heightened element of physicality prevalent throughout English football. The former Atletico prodigy was fiercely criticised by some during the early throws of his Premier League career and a perceived lack of reliability under aerial bombardment appeared to be the main cause for concern.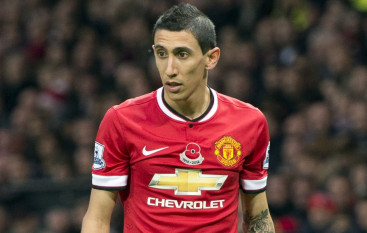 De Gea deserves immense credit for his refusal to be intimidated and allow such doubts to fester and consume his obvious potential. It takes real character to bounce back sufficiently from that sort of unfair and premature condemnation, particularly at a club where the expectations and level of media attention traditionally tend to be that much higher.
Quite simply, his importance to the current underwhelming Manchester United setup is almost impossible to overstate. Despite all of Van Gaal's high-profile attacking signings such as Angel Di Maria and Radamel Falcao, it is De Gea who unquestionably remains the Dutchman's most important asset in the all-important quest for Champions League qualification.
Manchester United's current style of football is not anything like as fixated upon retaining possession as it often was during the Sir Alex Ferguson era and as such they are generally far more open and vulnerable defensively.
Indeed, only a handful of rival goalkeepers have made as many saves as De Gea so far this season and he even managed to equal the top-flight record for most saves in a single match during a commanding performance against rivals Liverpool at Old Trafford in December 2014.
Harry Kane and Eden Hazard will be vying for the PFA award
There are of course other worthy claimants to this year's award. The likes of Chelsea duo Eden Hazard and Cesc Fabregas, Tottenham Hotspur striker Harry Kane, Arsenal's Alexis Sanchez and Manchester City talisman Sergio Aguero all stand a strong chance of being nominated, yet arguably none of that illustrious list are quite as intrinsically linked to the fortunes of their clubs at this present moment than De Gea.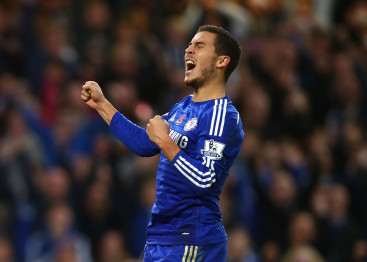 Such individual success, it is worth noting, has also been achieved in the face of near constant transfer speculation suggesting Real Madrid are eager to take De Gea back to La Liga amid talk of an unresolvable rift between player and manager.
But whereas many players are understandably affected by that sort of harmful speculation, for De Gea it has curiously almost seemed to have had the opposite impact.
Rather than allow the gossip to be detrimental to his form, he has instead seemed to feed off it, taking those links with another of world football's most recognisable clubs not as an attempt to unsettle but more as a validation of his ability and of his rapidly growing stature in the game.
Despite repeated denials from De Gea that there has not been any marked deterioration in his relationship with Van Gaal, the issue of his future will continue to provide a topic for repeated rumour and debate right up until the end of the summer transfer window.
While he remains at Manchester United, though, De Gea deserves to receive the proper recognition from his fellow professionals for his talent and increasing influence.