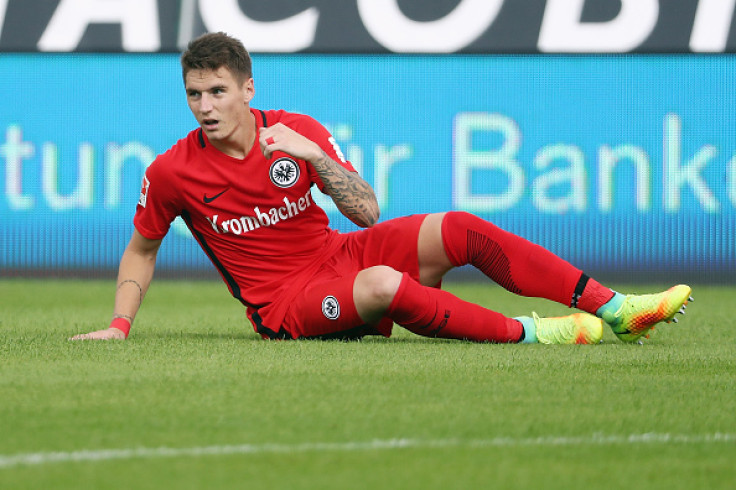 Manchester United defender Guillermo Varela's ankle injury suffered while while on a season-long loan at Eintracht Frankfurt has just got worse, threatening to keep him off the field till the end of the season on 20 May.
The Uruguayan suffered the initial injury in his second game for Frankfurt against Darmstadt 98 on 10 September and had to be operated on, following which he returned for their 2-0 defeat to Hertha Berlin in February. He had collided with Darmstadt striker Sven Schipplock in the seventh minute of the game and had to be forced off the pitch, ruling him out for four months.
German publication Kicker reveals that the player has not completely recovered from the injury and is doubtful for participation in the rest of Frankfurt's campaign. The defender was feeling discomfort because of the screw that was inserted in his leg during the operation and is currently undergoing treatment for the problem that is keeping him out of the XI.
One of the first signings of the post-Alex Ferguson era, he has been a United player since June 2013, before coming through the ranks and making his debut in 2015 against West Ham United. He has made 10 starts for the Red Devils and also scored the winning goal for the Under-21s against Tottenham Hotspur at White Hart Lane last season
The defender will return to Manchester after the end of the season and seek Jose Mourinho's opinion on whether he will play any further part at Old Trafford.
In a recent interview, he stressed that he will discuss his future after the end of the season with Mourinho and seek an exit if he does not feature in the plans. He was quite impressed with the manager's meticulous training methods while at the club and insists that United will go a long way under his supervision.
"The most important thing for me is to get back 100% to play until the end of the season. Then we will sit down together to see what's best for the club and myself. Then a decision will be made," Varela told the Manchester Evening News, as quoted by Goal.
"I really learnt a lot from the way he trained - the ball was always in the centre of the exercises," he explained. "The relationship was very good and I was pleasantly surprised. Maybe I expected his character when he is confronted with the press, but that was definitely not the case.
"He's always asking how everyone feels, making no difference between Rooney or a player who has just come up. He was always joking and ensuring he had a good connection between everyone and himself."