Manchester United striker Zlatan Ibrahimovic has confirmed that discussions have taken place with the club over extending his contract.
Nothing has yet been agreed, but Ibrahimovic said he was happy playing for "one of the biggest clubs in the world" and suggested that he had unfinished business at Old Trafford.
The 35-year-old signed a one-year contract with United with an option of an additional year after leaving Paris Saint-Germain last summer.
He has excelled in his first season in English football, scoring 15 goals in 25 Premier League appearances.
"Let's see what happens, we are talking," Ibrahimovic told the Manchester Evening News.
"I have an option for another year, I want to do great as long as I'm here, so let us see, there is a lot of time."
Agent Mino Raiola raised the prospect of the Ibrahimovic finishing his career at Italian club Napoli last month, saying the Sweden striker had "always been in love with the city of Naples".
LA Galaxy have also been linked with a move for the former Barcelona and AC Milan forward, with the MLS outfit's former general manager Alexi Lalas claiming that the two parties had already held talks over a potential summer move.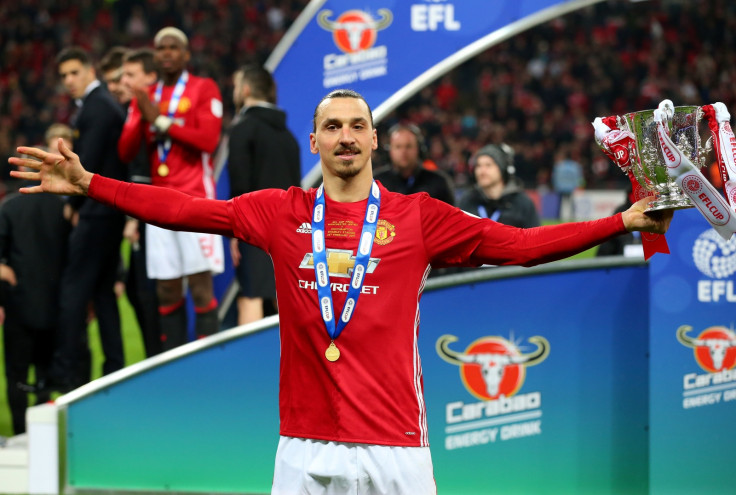 But Ibrahimovic insisted that he was happy at United and lavished praised on the club's manager, Jose Mourinho.
"I'm enjoying being at a fantastic club, without doubts, one of the biggest clubs in the world with a great coach. I know him before, he's a winner, he's the perfect coach for this club," he said.
"Being a Manchester United player, I don't know how many people have that possibility but I am a Man United player, people wanted me here, I chose the club, I chose the best English club, that's the way it works.
"I enjoy. I'm a person when I go into something I put my head 200 per cent into it. I go in, I go for the kill and I go out," the veteran striker continued.
"When I go out there is no complaints, that's what I do. I never leave a job unfinished."