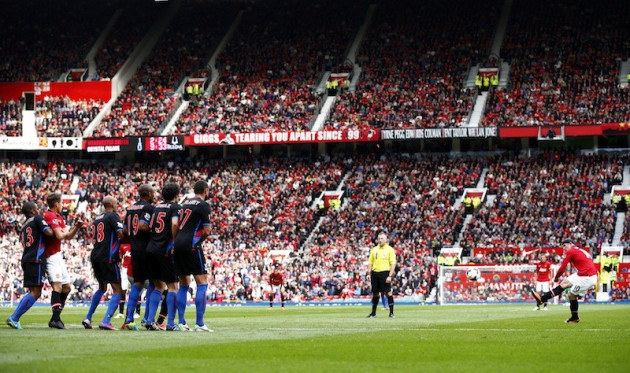 Machester United stand to cement their position as English football's financial leaders for the forseeable future, after posting record revenue of £363.2m for the 2013 financial year.

The club have spoken about how they now hope to take on the US market, and while supporters may not be best pleased with Ed Woodward right now, the chief executive is an undisputed expert on commercial matters and believes that gaining popularity in sports-mad America could take United's revenue over £420m the next time they release their financial details.
"The US market is under-penetrated," Woodward said. "It is a very big media market, the most developed sports market in the world.
"But we don't want to deals that are quick and wrong, that tie us up and we regret afterwards.
"We believe there has been an inflection point from 2010-11 when interest levels in football have increased."
Although many believe the Glazers' debts continue to limit United's ability to make major signings, the club's ever-increasing revenue streams will serve as a huge boost for the club as Financial Fair Play is introduced into the Premier League in incremental stages from this season onward.
While seen at first glance as a chance for clubs to stand on a more even keel in their quest for trophies, United will now hold an unprecedented amount of power over their rivals with their record-hitting revenue streams.
With the biggest stadium in the Premier League and a brand that already has a great deal of global reach, United may profit from financial fair play more than clubs which have been taken over by billionaire foreign owners.
Clubs like Chelsea, which were taken over by Roman Abramovich in 2003 and racked up huge losses during the early years of his tenure, appear far less attuned to the demands of financial fair play than United, whose commercial operation is light years ahead of their rivals from Stamford Bridge.
Last April, 14 Premier League clubs voted in favour of introducing the new rules, with Swansea abstaining all together. The restrictions include cutting wage bills and the amount of money clubs can spend over a certain number of years, though they only apply to TV revenue, which means sides can still use sponsorship deals and ticket money at their discretion.
With the regulations in place Abramovich will have his spending curved for the first time since taking over Chelsea. While this constraint does appear to be for the good of the game, and will be welcomed by many ordinary fans bitten by the financial crisis, is FFP the best way forward for a more equitable Premier League?
Owners can still come in and drive clubs to the brink of administration by selling players, getting relegated and putting incorrect people into managerial positions. These asset-stripping owners won't be touched by the new laws.
United may face controversy over their current financial situation and the fact that they are using a large chunk of their money to service an American company's debts. The supporters may feel aggrieved by this; but right now, they are also the envy of every other Premier League club.