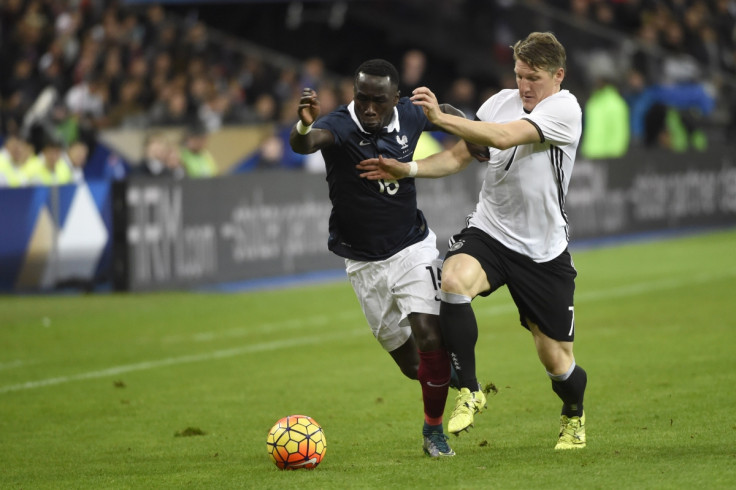 Manchester United midfielder Bastian Schweinsteiger is one of six players to have been released from the Germany squad ahead of their friendly against Netherlands.
Schweinsteiger, 31, captained the German side who played France on Friday (13 November) at the Stade de France, one of the locations targeted in the attacks on Paris that left 129 people dead.
Despite the attacks, the German FA confirmed on Sunday that Tuesday's friendly in Hannover will go ahead as planned but Schweinsteiger, along with Bayern Munich goalkeeper Manuel Neuer and former Arsenal forward Lukas Podolski, will be rested for the tie. Defenders Jerome Boateng and Jonas Hector have also dropped out nursing injuries.
A statement from the DFB read: "Germany's national team coach Joachim Löw will have 18 players available for their final international of the year. Despite the tragic events in Paris, it has been decided to go ahead with the football classic against the Netherlands on Tuesday evening (20:45 CEST) in Hannover. Six players who had been in the squad against France, will not be available against Holland.
"Manuel Neuer, Jérome Boateng, Jonas Hector, Lukas Podolski and Bastian Schweinsteiger have all made early departures from the national team. Neuer, Podolski and Schweinsteiger are rested by the coach, while Hector and Boateng are nursing minor injuries and therefore rested as well.
"Leroy Sané will also not be involved on Tuesday, as the Schalke youngster has joined the U21 squad, who take on Austria in Fürth on Tuesday (18:00 CEST) in their bid to qualify for the European Championships."
Germany lost 2-0 to France while Friday's shocking events unfolded around the city. After the match, the German players and staff were advised to spend the night in the stadium following the attacks across the French capital where they were also joined by the French players in what acting German FA president praised as an "outstanding gesture of camaraderie".
Schweinsteiger later expressed his "sincere condolences" to the victims of the attacks that left him "speechless" in Paris and in Beirut the day before.
"I am still speechless about what happened on Friday," the World Cup winner wrote on his Facebook page. "My sincerest condolences to everybody who is affected by this terrible tragedy. My prayers also go out to all the people who lost their lives the day before in Beirut.
"No matter where you come from and what religion you follow -- we are one."
German chancellor Angela Merkel and senior ministers will also attend Tuesday's friendly in a show of solidarity.