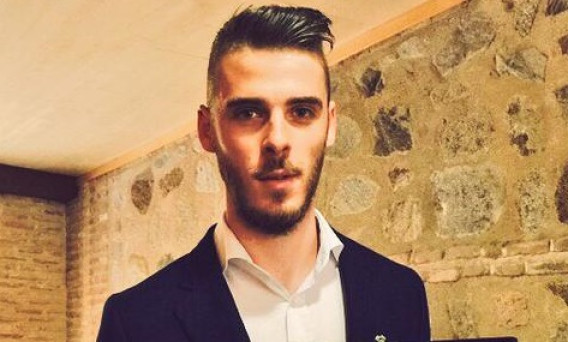 Manchester United goalkeeper David de Gea has refused to clarify his status at Old Trafford, stating "we'll see what happens" over his future amid continued speculation regarding a possible summer move to Real Madrid.
De Gea is approaching the final year of his contract with United and manager Louis van Gaal is concerned the 24-year-old could return to the Spanish capital this summer to replace Iker Casillas.
Latest reports suggest De Gea, who is valued at £50m, could yet run his United contract down and leave the club next summer, while Casillas – whose future at Madrid requires clarification – believes his countryman will leave the Premier League in the summer.
However, speaking following a ceremony in Toledo which saw De Gea named as an adopted son of Spanish region Castilla-La Mancha, the United player of the year said: "We'll see what happens with my future. I'm on vacation now and very happy with this recognition."
Having played a key role in United finishing fourth in the Premier League and qualifying for the Champions League this season, De Gea was named the club's player of the year for a second straight term and nominated for the PFA Player of the Year award.
Meanwhile, United goalkeeping coach Frans Hoek has urged De Gea to remain at the club so he can emulate Peter Schmeichel and Edwin van der Sar's success between the sticks.
"He is now at one of the biggest clubs in the world," Hoek told Man Utd Poland.
"The moment you are playing at a high level there, you're great and if you continue to do that, then automatically you become one of the better players in the world.
"He showed at a very young age – he became 24 this season – that he is able to do the job in all elements of the game, in construction, but also in defence.
"So nothing stands on his way to become one of the best like Schmeichel, like Van der Sar at United."