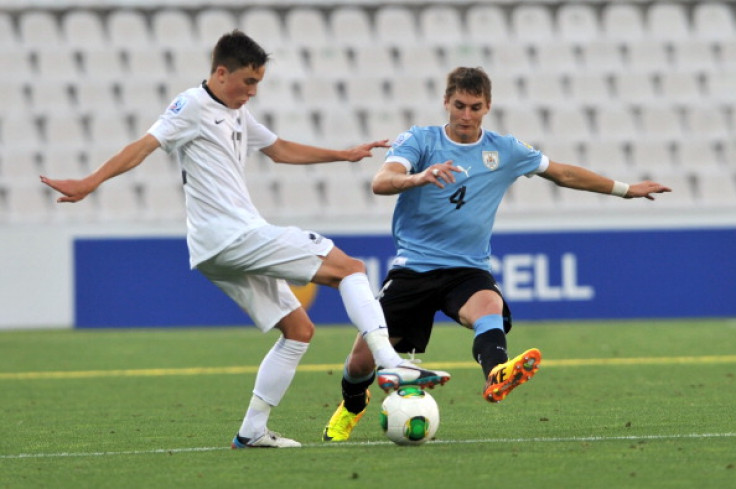 Manchester United defender Guillermo Varela's positive impact on the Red Devils squad has been recognised by his country after he received his first call up to the Uruguay national team for the upcoming World Cup qualifiers later this month. This will be a big boost to the right-back, who has impressed with his performances after breaking into the first-team this season.
The 22-year-old was on the verge of leaving the Old Trafford club during the January transfer window with strong interest from the La Liga, but Van Gaal denied him the move due to the massive injury crisis crippling the club. First and second choice right-back's Antonio Valencia and Matteo Darmian were injured leaving the manager with the Uruguayan as the only option. He made his debut against West Bromwich Albion in December and has gone on to make eight appearances since. Varela has impressed the manager with his performances and has also become an instant fan favourite, especially after his performance against Arsenal, when he kept Alexis Sanchez relatively quiet during the entire 90 minutes.
"I can say that it's only recently I realised how the love you get on social media has such an effect. I'm so popular with the fans but I also want to talk about the effect it has on me. It's only when you realise the scale of it [that you can appreciate it], and I want to say thanks to all of those people who are supporting me, it helps to drive me forward and motivates me to produce my best on the pitch," Varela told United's official site.
The Red Devils full back could make his debut when Uruguay take on Brazil and Peru in the 2018 World Cup qualifiers on 26 and 30 March respectively. Varela, meanwhile, has admitted that he feels exhausted at the moment owing to a regular run in the first-team, but is hoping that an added day of recovery following their win over Watford on Wednesday will help them recover better ahead of their clash against West Bromwich Albion on Sunday (6 March).
"Over-tired would be the best word [to describe how I'm feeling at the moment]," the young defender added. "It's been very hard on my legs. Now, we have a recovery and recuperation period, we do very good work in that area, and let's not forget we have an extra day of recovery ahead of this Sunday. Hopefully that will help us to find full form."