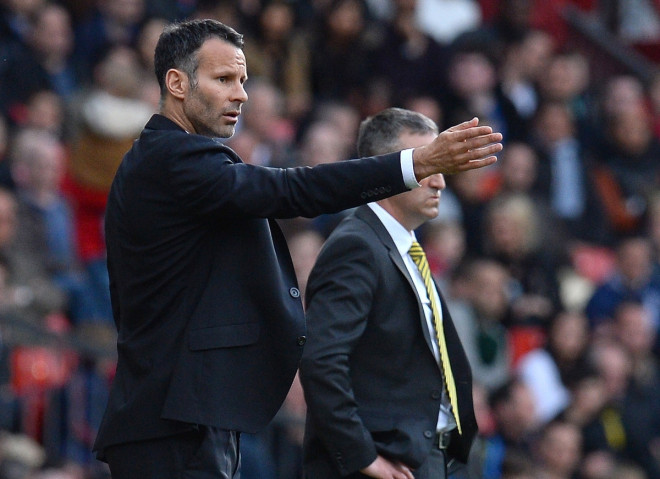 Manchester United goalkeeper Anders Lindegaard has christened Ryan Giggs 'the new Pep Guardiola' after the Welshman's perfect start to life as interim manager.
The 40-year-old will preside over first team matters for United's final three games of the season while the club consider a permanent replacement for David Moyes, who was shown the door after a disastrous first campaign last week.
Having called upon fellow Class of '92 teammates Paul Scholes, Phil Neville and Nicky Butt to assist him, Giggs helped to to restore an aura of positivity around Old Trafford as he led the club to a comfortable 4-0 win over Norwich City on Saturday.
Although the Welshman is reluctant to consider his chances of keeping the role beyond the end of the season, Lindegaard believes the Welshman is destined to forge a career similar to that of Guardiola's at Barcelona having also drawn early comparisons with Sir Alex Ferguson.
"Ryan Giggs has always kept a kind of professional distance to his teammates," Lindegaard wrote in his Betfair blog. "He opened his mouth when it was relevant, and people have always listened. What we have seen in the first week has been more than convincing.
"The parallels with Sir Alex Ferguson are striking and it is clear that Ryan Giggs has been learning from history's most awe-inspiring football manager.
"It probably sounds rather naïve and impetuous, and I understand people's scepticism about any conclusion drawn from four training sessions, a game and a day off, but to me we are dealing with a new Guardiola.
"The question is whether he is already ready to meet the enormous potential he possesses. Fortunately, it's not my decision to make, but 100 per cent the club's.
And whatever the club decide, I'm sure that everyone on and around the team will respect it. "
Dutch national team manager Louis van Gaal remains the overwhelming favourite to succeed Moyes on a permanent basis.