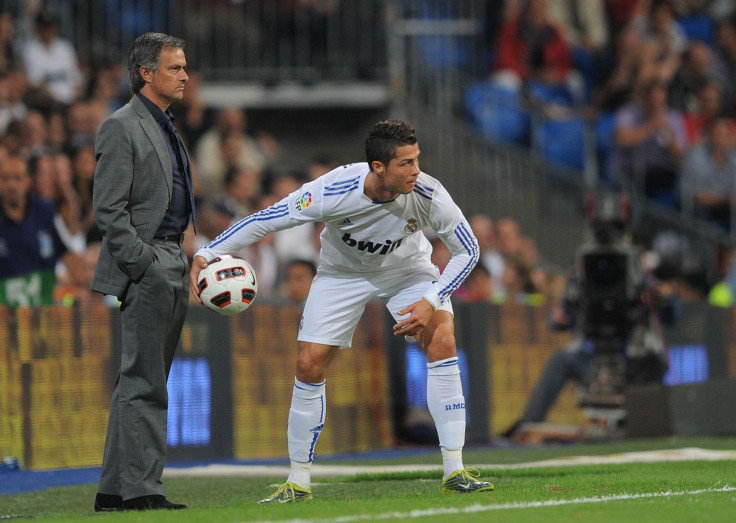 Real Madrid star Cristiano Ronaldo has welcomed Jose Mourinho's impending appointment at Manchester United. The 31-year-old forward worked with Mourinho at the Bernabeu and has backed his former manager to restore the Red Devils' "identity".
Ronaldo enjoyed a trophy-laden spell at Old Trafford and although he is happy in Madrid, he is eager to see his old club return to their former glories. The Portugal captain thinks Mourinho is the right man for United following the recent sacking of Louis van Gaal.
"He's already signed hasn't he? I think it's good. If it's something United wanted, I think it's good," he told the Spanish TV show Jugones, according to The Sun newspaper. "I hope Manchester United get back to being what they were because it's an impressive club but in the last years they lacked an identity a bit."
United-bound Mourinho and Ronaldo were reported to have had a frosty working relationship during their time at Madrid. But the former Old Trafford hero has lavished praise on his countryman, insisting they get along perfectly well.
"Without any problems I would embrace him. One of my greatest qualities is to not hold grudges at anyone regardless of the damage they may have done to me," the one-time United star said. "I'm not saying he did, I'm saying in general. There were some problems like in life, like you have problems with your wife."
Despite this, Ronaldo said he has no interest in following Mourinho to United, even though he is persistently linked with a big-money move to his former club. "I don't see any other club that is better than Real Madrid. If you weigh things up, there is no better club," said Ronaldo, who left United in 2009. "So all other clubs can forget about me because Real Madrid is the best."