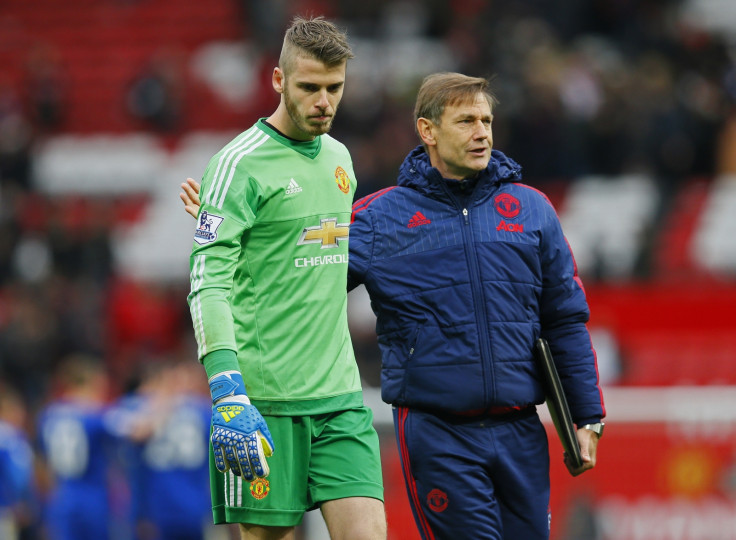 Goalkeeping coach Frans Hoek has confirmed he has followed Louis van Gaal out of Manchester United. The Premier League giants confirmed on Monday 23 May they had had parted ways with van Gaal after two years in charge at Old Trafford.
Former Chelsea manager Jose Mourinho is to be named his successor in the coming days and is expected to bring in his own back room team.
Reports prior to van Gaal's official dismissal claimed the Dutchman's backroom team of Hoek, Albert Stuivenberg (assistant coach) and Max Reckers (performance analyst) had also been released. While the club is yet to comment officially on the future of the trio, Hoek has released a statement confirming his departure.
"I am disappointed to be unable to complete our intended three-year plan," Hoek wrote via his Facebook page. "But it has been an honour and privilege to coach at such a magnificent club as Manchester United FC.
"At first I thank the players. It was a great please to work with them. And thanks to the owners and board, coaching staff and every member of the club's staff.
"And last but not least I thank the United supporters who are the best in the world. I wish you all the very best in the future."
Hoek followed van Gaal from the Dutch national side to United, having previously worked alongside the manager at Barcelona and Bayern Munich. He was the third goalkeeping coach to work with United's no. 1 David de Gea in three years following Eric Steele of the Sir Alex Ferguson reign and Chris Woods under David Moyes.
The future of Ryan Giggs at Old Trafford meanwhile remains uncertain. United are prepared to offer the club's most decorated player in history a new role under the new reign, although his current role of assistant manager is unlikely to be available with Rui Faria, a long-term ally of Mourinho, expected to follow the Portuguese to Old Trafford.