Manchester United supporters have accused club owners, the Glazers, of misusing money earned from fans, after it was revealed they could pocket up to 50 percent of the proceeds generated by taking the club public.
A report by Reuters confirmed the Glazers expected to raise more than £200m but only £77mm is supposedly meant for the club. The club's debts stand at a staggering £423m and although that figure is coming down, the news that this opportunity to take a healthy cut out of that figure is not being taken has angered fans.
"Supporters are going to be very angry about this. The Glazers have already cost United more than £550m in debt related fees and now another slap in the face as they help themselves to half of the proposed IPO proceeds," said Duncan Drasdo, chief executive of the Manchester United Supporters Trust. It won't help the Glazers that United, who have won the Premier League a record 19 times, have just experienced their first trophy-less season since 2005.
"Clearly this has nothing to do with benefits for Manchester United and is all about giving the Glazers quick access to desperately needed cash at the expense of our football club," Drasdo added.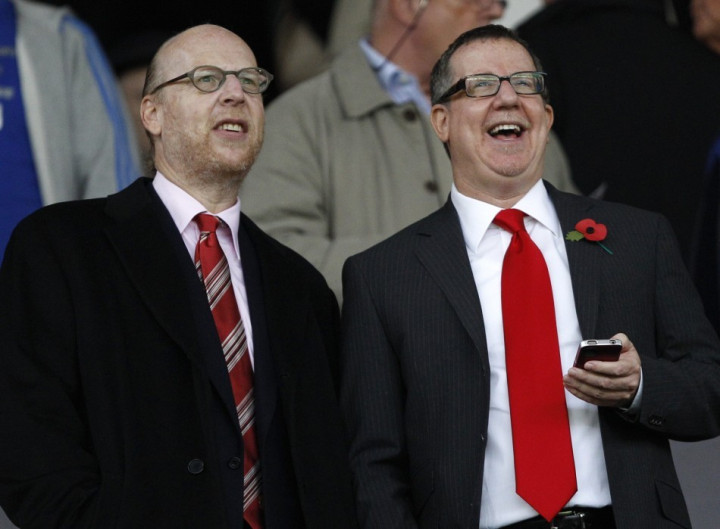 Meanwhile, the Red Devils boss, Sir Alex Ferguson, has denied suggestions he will receive a sizeable bonus following the sale of shares. There were rumors the 70 year old Scot, who has been a public supporter of the Glazers' ownership of Old Trafford, will be rewarded for that loyalty.
However, the long serving manager was quick to issue a statement denying that link.
"Being aware of the media coverage that is currently ongoing, I felt on this occasion that I should make my position clear to the Manchester United fans. In regards to suggestions that I have praised the Glazer family because I stand to financially benefit from the proposed IPO [Initial Public Offering], there is not a single grain of truth in this allegation. I do not receive any payments, directly or indirectly, from the IPO," the Guardian quoted from the statement.
"Ultimately, I run the football side of this club and in order to do this, you need backing from above. The Glazer family have let me get on with my job, there is no interference or obstruction, only support. My decisions and beliefs are not based around what is best for my personal financial gain. That is an accusation that insults me. If that was the case, I would have left Old Trafford a long time ago. I am speaking out because I do not want a situation to develop whereby the media and other parties create a rift, however small, between myself and any Manchester United fan. I've spent 25 years of my life pushing this club forward and not only could I not have done it without those fans, I do it for them," continued the statement.