Reports in Spain suggest Manchester United continue to monitor the development of Valencia star Nicolas Otamendi despite having a €35m (£25.6m, $38m) bid rejected for him during the January transfer window.
The 27-year-old Argentina international defender was said to be one of David Moyes' top targets to bolster the back-line when he was still playing at Porto.
However, Otamendi moved instead to Valencia where he has burnished his reputation, becoming one of the best centre-backs in La Liga while leading his side to an impressive third place in the table, just behind Barcelona and Real Madrid.
Reports during the January transfer window claimed both Manchester United and Arsenal had been attracted by his impressive performances in La Liga and made approaches to secure his services.
While Arsene Wenger eventually opted to signed Gabriel Paulista from Villarreal, reports in Spain said Louis van Gaal pursued his interest in Otamendi but was blocked by Valencia, who later confirmed they had snubbed a lucrative offer from an unnamed Premier League club.
However it looks like United have not completely given up in their bid to secure his services and are ready to make a new approach for the defender in the summer.
Valencia-based newspaper Estadio Deportivo claimed United's Spanish scout Carlos Ruiz was "spying" the Argentinian at the Martinez Valero stadium on Friday 20 March during their impressive 4-0 victory over Elche, with Otamendi scoring his third goal of the season.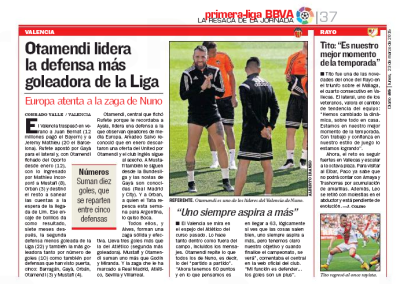 While Spanish newspaper AS also reported that United are closely monitoring the defender the reports claim that Valencia are not likely to negotiate his departure, meaning United will need to match his €36.5m release clause to secure his services.
Speaking after the game, Otamendi expressed his happiness about his debut season in La Liga, with Valencia close to securing their target to be in the next Champions League.
"Personally I am very happy. I am a defender and I know that my main function is to defend but scoring is a nice plus – it's important for a defender. I'm happy that we won and happy that the team is in such a good moment," he continued.
"We are absolutely clear about what our objectives are but obviously, after the results we've been getting lately, it's only natural to start aspiring to something more."