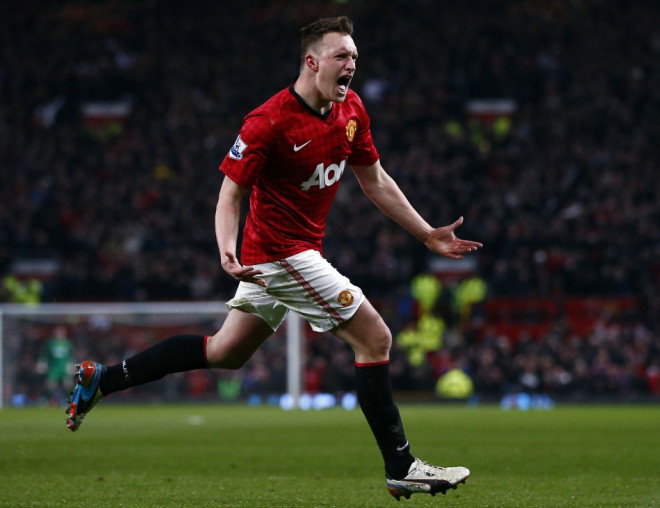 Phil Jones has returned to training for Manchester United to give David Moyes' side a much needed lift ahead of a crucial month of March for the club.
The former Blackburn Rovers starlet has been out of contention after going off before half time with a concussion during the 2-1 loss to Stoke City on 1 February having also suffered with a hip problem in recent weeks.
Although Jones' recovery did not come in time for him to be considered for Roy Hodgson's England squad ahead of next Wednesday's friendly with Denmark, the versatile defender is expected to make the trip to West Brom for United's next game a week on Saturday, the Guardian report.
The 23-year-old's return will be an immeasurable boost to Moyes' side who have suffered in the absence of him and Jonny Evans, who was also taken off injured in that loss at the Britannia.
Ro Ferdinand has deputised at centre half with Chris Smalling forced to fill in for the injured Rafael at right back, but the veteran's decline was brutally exposed in United's 2-0 loss to Olympiakos last Tuesday.
Alongside Nemanja Vidic, the declining pace of the veteran partnership saw United defend deep in Athens much to their peril to leave United's hopes of qualifying for the quarter finals of the Champions League in real doubt.
Jones' return is likely to see him feature in the return leg at Old Trafford in three weeks' time, while his presence will also be expected in home games against Liverpool and Manchester City either side of their Champions League tie.
Given United's dearth of midfield options Jones has often been deployed in a holding role this season rather than in his preferred position at centre half.
But with Vidic already a confirmed departure and Ferdinand likely to follow, Moyes may feel the final third of the season is the perfect opportunity to bed the player into a position where many predict him to play for club and country for years to come.
United were initially scheduled to take on Manchester City this weekend, but their neighbours' participation in the Capital One Cup on Sunday saw the fixtures postponed. The current champions return to action on March 8 when they visit the Hawthorns.