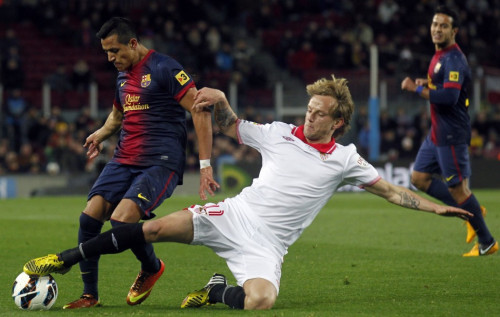 Ivan Rakitic's agent is going to meet with Sevilla's officials next week to discuss an extension on his contract with Manchester United and Liverpool monitoring the situation should the player decide to quit La Liga.
The 25-year-old playmaker has excelled in the first half of the season for Sevilla, scoring eight goals and grabbing eight assists in just 17 league appearances.
His amazing start to the season has wowed senior officials at both Anfield and Old Trafford, and speculation regarding a move to the Premier League increased when he recently rejected an offer of a new four-year deal at Sevilla.
However, Rakitic has claimed lately that he is willing to stay at the Andalucia-based club, and the Sevilla sporting director Monchi revealed in a press conference that next week they are going to meet again with the midfielder's agent (and brother) to discuss a new contract.
"Certainly next week, we're going to have a meeting with his brother (and agent) Dejan and the intention of the club is that Ivan isn't here for just another year and a half, but for much longer than that.
"We're going to make every effort we can within our means. We know we have the best intentions of the player, who has suggested as such in the press, and now we hope that this helps us and this good intention is converted into a push to renew his contract."
Monchi concluded: "There's still a year and a half of his contract remaining, so it's not something that's all that urgent that the world will end, but we know that his intention is to stay."
The Croatian international still has 18 months remaining on his current contract at Sevilla and his release clause is £33m.