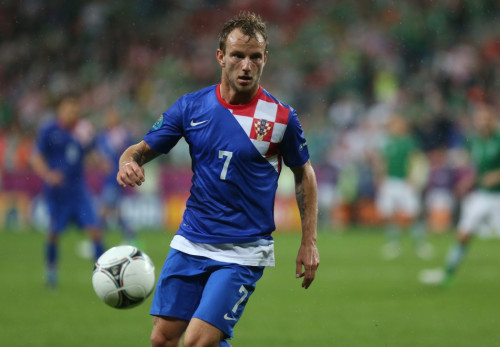 Manchester United and Liverpool have suffered a blow in signing Ivan Rakitic after Sevilla midfielder admitted that he is happy in Spain and has no intentions to leave the La Liga side.
The 25-year-old has been on United's radar as David Moyes was looking to sign Rakitic to strengthen the Premier League champions' midfield while their arch rivals Liverpool have also maintained their interest in Sevilla star as Brendan Rodgers looks to bolster the Reds' squad.
Meanwhile, Chelsea are also believed to be interested in Rakitic's signature after his impressive spell for the Andalucia-based club, scoring nine goals and managing six assists in 18 league appearances this season.
Rakitic has put an end to the recent speculation surrounding his future at Sevilla and insisted that he was happy with his current employers.
"I like playing for Sevilla, in the present, the future and always. I am very happy here at this club. And also my family are too," talkSPORT quoted Rakitic as saying.
The Croatian midfielder's contract with the La Liga outfit runs down at the end of next season. His situation with Sevilla has seen him attract interest from clubs across England.
Sevilla sporting director Monchi has admitted that the La Liga side are keen on retaining the midfielder and revealed that the talks are ongoing between the club and Rakitic's agent over contract extension.
Rakitic stressed that he has no intentions to leave the Spanish side to seal a move to the Premier League and is looking to land a new deal to extend his stay at Sevilla beyond the summer of 2015.
"Am I attracted to England? At this point about Sevilla I don't care about another country, about another club. People know I'm happy in Sevilla, I'm really not under any pressure, my team-mates and all coaches see that I give my all on the pitch," the Croatian midfielder explained.
"I'm enjoying football here, I really love life in this city, so it is a great honour that there are signs of a new contract and that the board is really ready to sign me for an even longer period. We'll see what happens," he said.