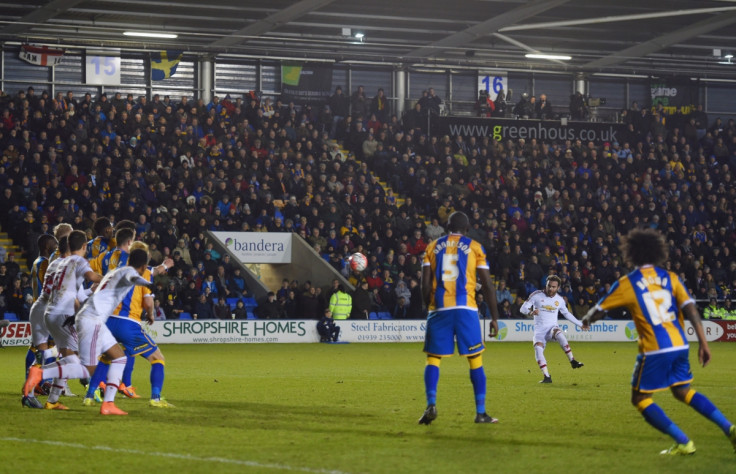 Manchester United manager Louis van Gaal admits Juan Mata's free-kick in their FA Cup victory over Shrewsbury Town was largely masterminded by Danish champions FC Midtjylland. United sealed their place in the quarter-finals of this season's FA Cup with a comfortable 3-0 win over League one opposition on 22 February, with Mata's strike just before half-time settling the contest.
Three United defenders took up positions behind the Shrewsbury wall, breaking away as Mata curled his effort over into the far left corner past the rooted goalkeeper. That particular set-piece was a first for United and Van Gaal says he had previously avoided attempting it as he felt it would have been immediately ruled offside. But having consulted referees over Midtjylland's use of the move, the club discovered that was not the case.
"We have learned because we analysed FC Midtjylland and we saw they were doing that," he told BT Sport of the goal, which prompted controversy on the night given the strong suspicions of offside. "We thought it was always offside so we asked the referees and they said it's not offside, you can do that. That's why we have learned about the taking of the free-kicks. Today we scored and that's good."
Chris Smalling's 37-minute effort saw United take the lead during a comfortable first half against Shrewsbury before Mata's effort in added time doubled the away side's lead just before half-time.
United remained largely untroubled in the second half and sealed their progression into the next round just after the hour mark when Jesse Lingard met Ander Herrera's fine pass with a neat finish. Van Gaal's side should have added to their tally when Will Keane was denied by the post, while Memphis Depay's tame effort was saved in the final minutes.
United will meet West Ham United at Old Trafford with a place in the semi-final of the competition on the line.