Manchester United: Louis van Gaal is hoping for Angel di Maria stay despite disappointing campaign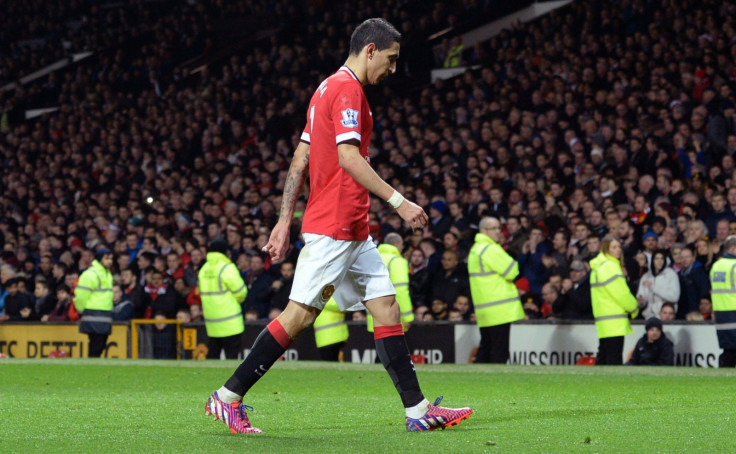 Manchester United manager Louis van Gaal has admitted that forward Angel di Maria's time at Old Trafford thus far this campaign has been disappointing.
The Argentine, who moved from Real Madrid in the summer for a British-record fee has struggled to adapt to the English Premier League and has off late struggled to get into the starting lineup at United.
Di Maria has failed to start a game since being sent off during their FA Cup quarter-final loss at the hands of Arsenal in February.
The former Real winger made a blistering start to his United career with three goals and three assists in his first five Premier League games, but has since gone off the boil and he is yet to score a goal in the league since the start of October.
The Dutch manager has revealed that Di Maria could get back into the team following consecutive losses for United against Chelsea and Everton. And the manager also hoped that Argentina's prolonged participation in the 2014 World Cup played a part in his lack of performance this campaign.
"He cannot say that he has had a marvellous season here.The issue that he is not always in the line-up is for him a disappointment, but also for me a disappointment," Van Gaal said, as quoted on United's official site.
"Normally he would have played, but in the last few weeks the team was winning so he wasn't been able to play. Now, we have been losing matches, so the chance of him coming back is higher. It is always like that."
"I hope! [2014 World Cup] You cannot always say that is the main factor. Of course, it plays a role and I hope it is that, because then we can have a fantastic season next season. You have to adapt to our philosophy and that is also difficult for him, probably. Normally he shall have a fantastic season, I believe in that," the former Bayern Munich manager added.
Meanwhile, the manager, who is hoping that the Argentine international remains at the club next season, believes that the final decision usually lies with the player concerned. Earlier in the month reports had suggested that Di Maria had told the Old Trafford hierarchy that he wishes to remain with the club beyond this campaign.
"I think Di Maria shall stay. He is working very hard. I am pleased with his attitude, so that is not a problem."
"The manager and the club is always dependable on the opinion of the player himself. The player decides, so we shall see what he decides. The decision is not only [down] to him because we have a contract, so we shall speak always with every player and evaluate, as I always do. Then we speak with each other about the future, and that is [the case] with every player," Van Gaal concluded.
© Copyright IBTimes 2023. All rights reserved.