Manchester United: Louis van Gaal reveals he kissed Ander Herrera against Aston Villa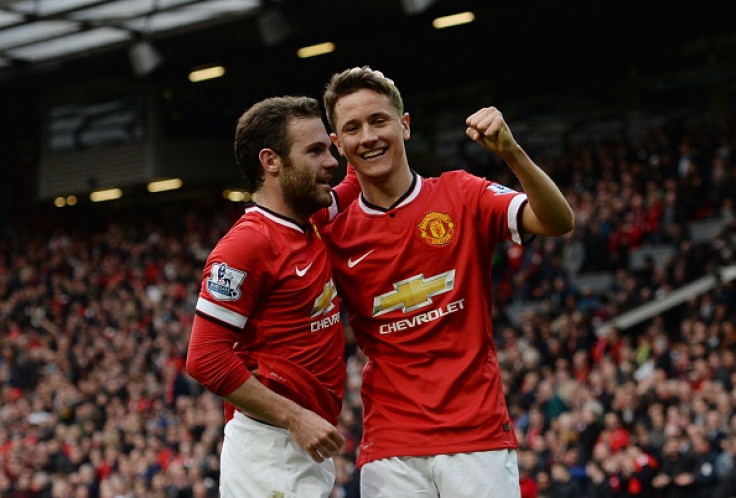 Louis van Gaal has revealed he kissed Ander Herrera during the half-time after the midfielder followed his instructions, which helped him score two goals during Manchester United's 3-1 win over Aston Villa.
The former Netherlands manager had urged the 25-year-old to control the ball before taking a shot. These instructions were given on numerous occasions by Van Gaal and Herrera followed them to score his and United's first goal.
The Spanish midfielder scored his second goal of the match to extend his tally to five goals in the Premier League. Despite his latest form, the United manager has urged Herrera to be more composed in order to find the back of the net regularly for the Red Devils.
"[Ander] has a very good kicking technique and he should only be more composed. I said to him, 'you have to control the ball before you shoot'," Van Gaal told United's official website.
"I said that to him again in yesterday's training session, and then I kissed him at half-time because he had controlled the ball for the first time in his life and then he shot! But then I came after the second half to him and he said 'without control I can do it also!'"
Wayne Rooney scored a beautiful goal from Angel Di Maria's cross in the second half. Villa scored one from the corner as Christian Benteke guided the ball under David De Gea's legs.
The Dutchman hailed Rooney and Di Maria for their effort, but was disappointed over conceding a "stupid goal".
"It was beautiful and also the assist of Di Maria. I think he was one minute on the pitch and he already has an assist. That's fantastic," the United manager explained.
"But after Wayne's fantastic goal, the concentration went again. You saw that – at the kick-off we didn't have pressure on the ball and then you know what can happen."
"We also know that Benteke is very dangerous in front of the goal because he can head and shoot, and he also scored against us in the away match. It was a stupid goal against us," Van Gaal explained.
United face their local rivals and Premier League champions Manchester City in the derby clash at the Old Trafford next Sunday.
© Copyright IBTimes 2023. All rights reserved.