Manchester United: Louis van Gaal sees Chris Smalling as future Red Devils captain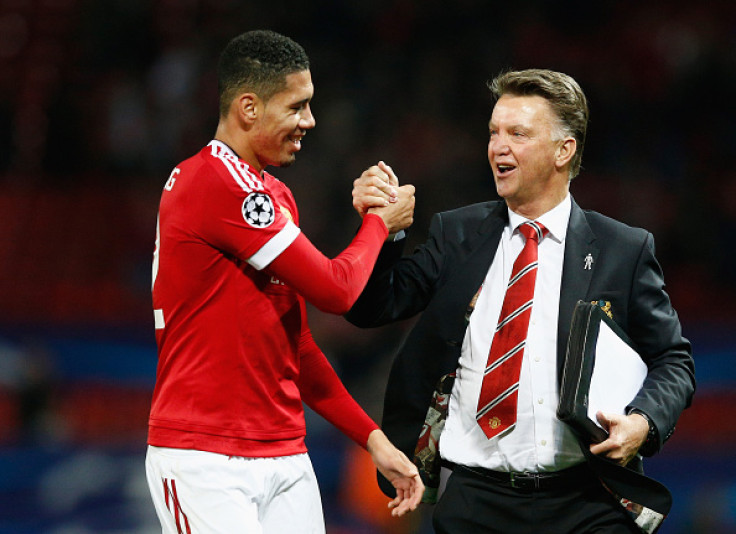 Manchester United manager Louis van Gaal believes Chris Smalling has what it takes to be the future captain of the Red Devils. The defender has been instrumental in the 20-time English champions' good start to the 2015/16 campaign, playing every minute of every game in the Premier League and the Champions League.
United are currently in the third place in the league level on points with second-placed Arsenal and two points behind leaders Manchester City, who they face at Old Trafford on Sunday (25 October). Smalling has been one of their best players so far this campaign and the manager feels that he can take over from Wayne Rooney – the current captain – and Michael Carrick, who is his deputy. The Dutchman has admitted to pushing the England international defender to take more responsibility and communicate with his defensive partners and the goalkeeper to have a better understanding of the game.
Van Gaal is confident that the former Fulham defender has the skills necessary to lead the team in the future, but has made it clear that it is up to the player to want to take the initiative and make it happen. The manager is impressed with Smalling's improvement since his arrival at Old Trafford last summer, both on the communication and tactical fronts.
"Wayne Rooney is the captain and so you don't have to worry and then Michael Carrick but when they are gone then Chris Smalling can do that. So I push him also in that situation. Every player makes the steps by himself to improve. I put him in the situation and I help him in the situation and I advise and the player can take it on board or not. It is his responsibility. He has done it by himself. There is a lot of advice," Van Gaal is quoted as saying by the Guardian.
"It is about how we defend as a team. Smalling is a part of that and I wanted him to speak. He also has the talent to speak. That makes him easy to coach. Because of that I made him a leader of the team. He has made steps and also in a tactical way. When you give instruction in terms of organisation you need someone to understand that. He is a structured person. He accepted it more quickly. David de Gea [the goalkeeper] has the best view and then the central defenders so I demand of my defenders that they speak. They need also an overview. I put him in that situation and then he can develop or not. It is his choice."
© Copyright IBTimes 2023. All rights reserved.