Manchester United defender Luke Shaw continued to impress in his recovery from a double leg break he suffered during the Red Devils' Champions League clash against PSV Eindhoven on 16 September. The left-back underwent two surgeries to fox the damage, and it was initially feared that the full back will not return to action before the end of the 2015/16 campaign.
The Manchester Evening News report understands that the defender is much ahead of his recovery schedule, after he was pictured walking without crutches, despite suffering the terrible injury less than two months back. This will come as a big boost to Louis van Gaal, who had touted this to be Shaw's season, prior to the start of the campaign. The left-back was also delighted to be walking without help, and expressed his delight on his official Instagram page.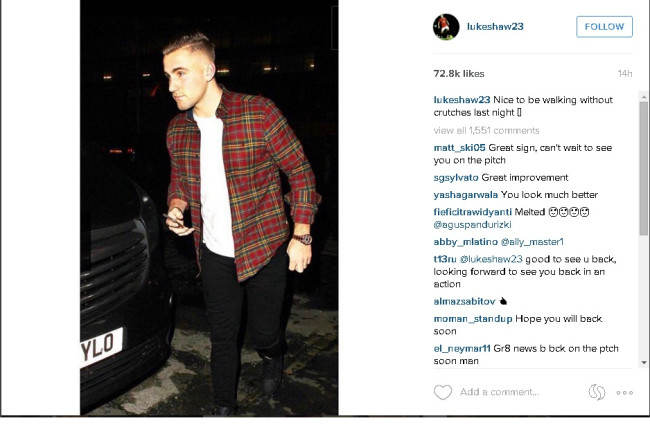 The Dutch manager had also confirmed that the former Southampton defender was progressing well in his recovery, but refused to put a timeline on his possible return. Arsenal star Theo Walcott, who faced a lengthy injury absence, is also of a similar opinion, and has asked Shaw not to rush his return, and believes that it takes a lot of effort to reach the same fitness levels prior to the injury. The Gunners forward injured his cruciate knee ligaments in January 2014, and it was 11 months before he could make his first appearance for Arsenal.
"It is important not to put a time frame on it. I was 11 months in the end and it is when you are ready," Walcott said, as quoted by the Manchester Evening News.
"I think it is important for everyone to know they (experts) say six months, but you have to give people time and they will come back when they are ready."
"It takes time to come back to the same level from before you were out. I have worked hard to get where I am and I am happy," the England international said of his own injury return.
"You just think you can go out there and do it, but after training sometimes you think, 'that was tough.' You just have to wait your time."