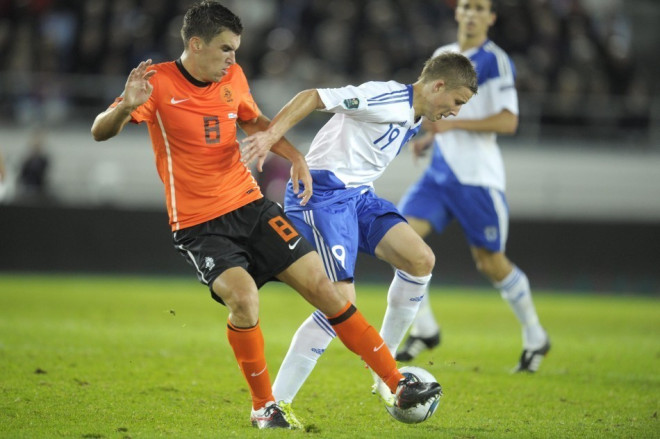 Manchester United have made a £25m bid for Kevin Strootman as soon-to-be-announced manager Louis van Gaal looks to initiate their transfer business before the World Cup, according to the Daily Express.
The Dutchman is a huge fan of the Roma midfielder and believes that the 24-year-old can bring some much-needed steel to the United midfield.
Dubbed "the Dutch Roy Keane", Strootman will hold the United midfield together while allowing other flair players to move forward. The midfielder is missing out on the World Cup in Brazil next year as he is sidelined with a knee injury, which he succumbed to in March.
However, inspite of the injury, van Gaal is confident that Strootman can turn a corner and play an influential role for United in the upcoming season.
Their main problem lies with Roma, who are unwilling to sell the player for anything less than £30m, a fee that the Red Devils are unwilling to match.
Meanwhile, United are also looking to bolster their defence with Rio Ferdinand and Nemanja Vidic set to leave this summer on a free transfer. The defensive pairing have won a combined 11 Premier League titles among themselves and have been the most potent partnership in the league over the past decade.
However, Vidic believes that the young guards like Phil Jones, Chris Smalling and Jonny Evans are more than capable of taking over the responsibility.
"I think it's up to the new manager to decide but what I have to say is I have been training and playing with these guys and they definitely have all the ability they need to become top players," Vidic said.
"I think Chris Smalling and Phil Jones, first of all, are people who are attracting a lot of interest here because they are national-team players and the future of English football, not just Manchester United.
"They definitely have the physical strength, pace and technique to play for this club and I think now is the time for them to step up next year and to maybe form the new partnership with Jonny Evans.
"I believe those three have to be the players who are carrying on and becoming the United defenders for the next seven or eight years. I think they have that capability and the experience to step up," he concluded.