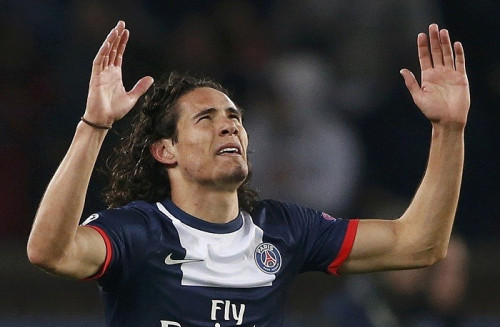 Manchester United are planning a summer swoop for Paris Saint-Germain striker Edinson Cavani to replace Wayne Rooney, with the England international braced to leave the club after the end of the season, according to the Sunday People.
Rooney, whose contract with the Red Devils extends till 2015, is unlikely to extend his contract and this might force Moyes to sell his prized posession after the end of ths season.
The 27-year-old is reportedly waiting to see how the season pans out at Old Trafford, with the Red Devils currently 14 points behind league leaders Arsenal and are set to face Chelsea at the Stamford Bridge on Sunday in a bid to close the gap on Liverpool, who dropped two points at home against Aston Villa.
Cavani is believed to be unimpressed by the state of football in France and is willing to make a move next summer if a club comes calling.
The Uruguayan has made 26 appearances this season, scoring 18 goals in the process and will be a perfect replacement for United if they are unable to retain Rooney.
Cavani is one among the vast list of players in Moyes' wishlist, with United looking to make a complete rejig of their squad next summer.
The former Everton manager has reportedly been given a massive bounty to spend and should he fail to make any proper signings in this window, it is likely that he hold on till the summer for the major dealings.
United are currently seventh in the table and have a chance to close the gap on Liverpool to only three points if they are able to beat Chelsea, something which will immensely help their cause in the race for the fourth spot.
However, in spite of their blip post Sir Alex Ferguson, Moyes believes that players are still lining to move to Old Trafford.
"Judging by trips I've made recently and the things I am hearing, what has happened so far this season won't be an issue when we sign players. The number of big players wanting to join Manchester United is incredible," Moyes said.