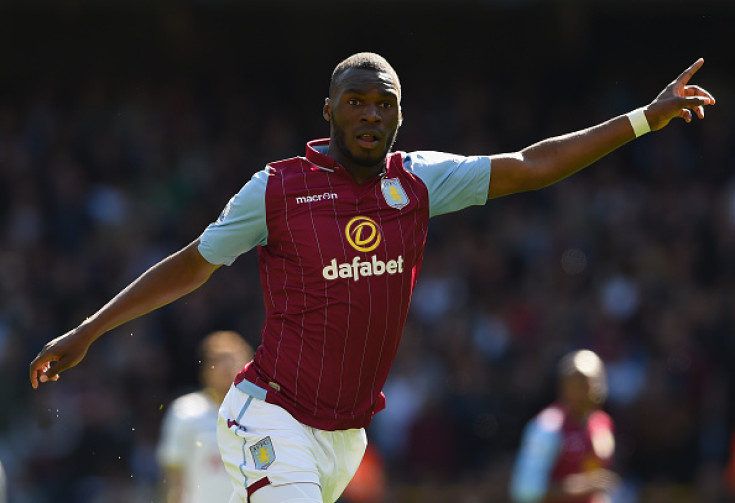 Manchester United have stepped up their interest in Christian Benteke after adding personnel to their defence and midfield, according to the Sun.
The striker is being heavily scouted by Liverpool and Tottenham but neither club are willing to match his £32.5m ($50m) release clause, which has resulted in a major stumbling block in his transfer. The Telegraph reports that Liverpool are currently the frontrunners for his signature, with the player scheduled to hold talks with manager Tim Sherwood to lower his exit fee to help him complete a move of his choice.
United are also in the market for a striker after cutting short Radamel Falcao's loan spell from Monaco and allowing Robin van Persie to leave the club to pursue a career in Turkey with Fenerbahce. The departures have left the Red Devils with only Wayne Rooney as their sole senior striker in the squad, while James Wilson is there as an emergency back-up plan.
Benteke has been in brilliant form for Villa since returning from injury, scoring 15 goals and assisting four in 31 starts for the club. He also led his squad to the FA Cup final after a brilliant performance against Brendan Rodgers' Liverpool in the semi-finals.
However, Arsenal's adroit planning and execution saw them beat the Villans comprehensively, with Francis Coquelin completely neutralising the Belgian and rendering him ineffective.
Meanwhile, United have completed the transfer of German legend Bastian Schweinsteiger from Bayern Munich, with the midfielder ending his long standing relationship with the German club. He will add competition to their midfield alongside Michael Carrick, Ander Herrera and Marouane Fellaini, who will be fighting for two holding midfield spots.
Bayern chairman Karl Heinz-Rummenigge said that the club had reached an agreement with United over a transfer while insisting that they had done their best to extend his contract, which expired next season.
"It's regrettable because Bastian meant a great deal to the club," said the Bayern chairman, as quoted by the BBC.
"He achieved great things but he wants to do something new at the end of his career. He asked that we meet his wishes.
"We tried to convince him to stay with Bayern Munich. But I also understand that a player who has spent 17 years at Bayern Munich still wants to gain a new experience," he added.