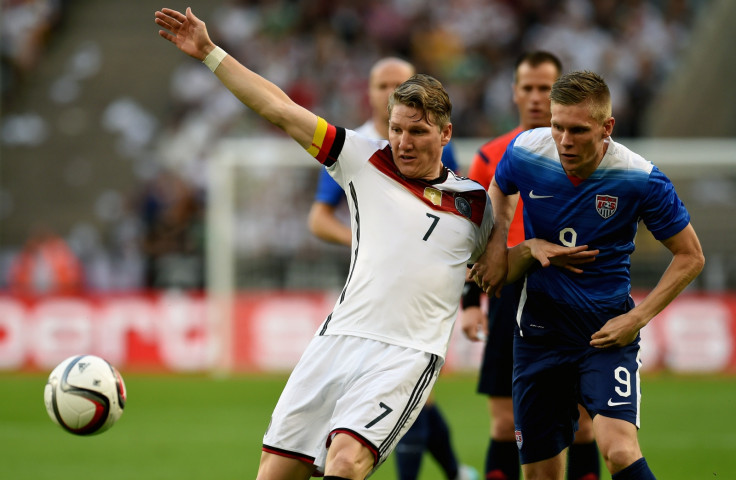 Manchester United have made an offer for Bayern Munich midfielder Bastian Schweinsteiger, according to German publication Bild.
The Red Devils have already signed Memphis Depay from PSV Eindoven and the German, who has only a year left in his current contract with the Bavarians, will be their second top acquisition for the summer.
The report states that Louis van Gaal has offered him a two-year contract at the club where he will come in to add some much needed experience in midfield.
The news comes days after Bayern chairman Karl-Heinz Rummenigge confirmed that Schweinsteiger's future rests in his own hands and that the player is flattered to have received interest from the Premier League.
"I make no secret about it that, in our conversations, it sounds like he is flattered from the interest in England," the chairman said, as quoted by Goal.
"I talked to him during his vacation. We will meet each other, when he is back."
Sporting director Matthias Sammer and manager Pep Guardiola also stated that it was up to the 30-year-old to decide his future and any choice to stay or leave shall be entirely his.
The two-year contract will see Schweinsteiger reach 32 years of age, and given the current exodus of players to the MLS, as evidenced by the move of Frank Lampard and Steven Gerrard, it could turn out to be a good deal to consider for the midfielder following his brief stint in the league.
The German has won everything there is to with Bayern and also the World Cup with Germany in 2014 and will add some winning mentality to the United squad, which does not have too many leaders following the retirement of Paul Scholes and Ryan Giggs.
Meanwhile, United are also close to completing a move for Morgan Schneiderlin, with the Mirror reporting that the manager is confident of concluding a deal before the US tour.