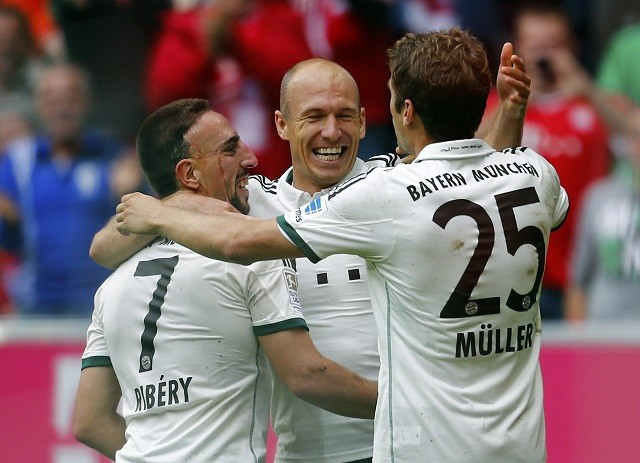 Louis van Gaal has given Manchester United his list of targets to pursue in the summer while he continues his stint with the national team, according to the Guardian.
The report states that van Gaal has told Ed Woodward that his three main targets for the summer are Dutch winger Arjen Robben, Bayern Munich forward Thomas Muller and Borussia Dortmund defender Mats Hummels.
Robben is currently training under van Gaal with the Dutch national team while his teammate at Bayern, Muller, is preparing for the German Cup final against Dortmund, scheduled for this weekend.
Both Muller and Hummels will travel to Brazil for the World Cup with Germany but the Red Devils are looking to initiate the transfer before the tournament.
Meanwhile, Luke Shaw and Toni Kroos are also in reckoning for a transfer as the Red Devils look to break the bank to secure their position in the top four next season.
The Dutchman will be boosted by the presence of Robin van Persie at United with whom he shares a cordial relationship.
The striker was out for a major part of last season and is not yet fully fit. However, van Gaal hopes that he can shed off his injury woes and take Netherlands to their second world cup final in consecutive years.
"What I think is that Robin is not fit yet but I hope he is fit when we start the tournament in Brazil," the soon-to-be-announced manager said.
"We have a phenomenon in [Dutch] skating, that skaters injured or ill for six months become the world champions. We hope that it will also be the same with van Persie. Then I'll be the trainer-coach of the world champions," he said.
Meanwhile, he refused to talk about his appointment at Old Trafford for next season and insisted that he is committed to the national team and will do everything in his power to take them afar in the competition.
"I have invested a lot of time in this, so you can imagine how very important [the World Cup] is for me and the players. I've been in football for 40 years. In three months I'm 63. So I can manage the situation," he explained.
"You keep focussed because of the training sessions, because of the team meetings and the tactical meetings. And because of the passion of the players that play at the world championships. It is always the case that we want to be focused on the competition," he concluded.