Manchester United legend Ole Gunnar Solskjaer has backed Ryan Giggs to succeed Sir Alex Ferguson as United manager when the midfielder hangs his boots after the end of the 2013-14 season. The 39-year-old has recently signed a one year contract extension with United and is already undertaking his UEFA pro-licence so as to facilitate his managerial ambitions after he retires as a player.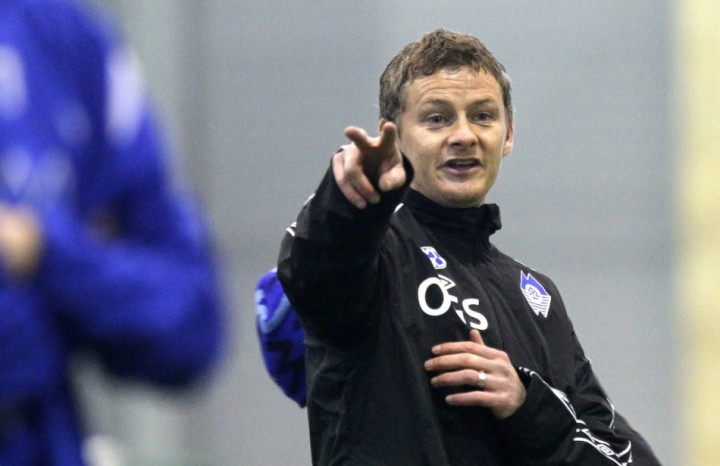 "Giggsy is going to play another year (but) I'd say he's got his eyes and ears open more to what the manager is doing.He's looking at that (United) job for himself, Giggsy. He's got top potential," he said.
Solskjaer spent nine seasons at the club before injuries took its toll on him, ending his career in 2007 with a tally of 186 goals from 366 appearances at the club. The 40-year-old has since taken up a managerial position at Molde, where he spent two seasons as a player before joining Manchester United in 1996. He was also the manager for the United reserves for three years before moving to his native land. However, Solskjaer reveals that the United job is still a dream.
"I've said it before that my dream is to manage United - that's tongue in cheek really, because it's a massive job, it's the biggest job in the world. But you have to dream big - if you don't dream big you won't make it, so let's just wait and see what happens," he added.
Meanwhile, Solskjaer is scaling heights with Molde, leading them to two consecutive League titles in 2011 and 2012 immediately after his return to the club. However, he will be facing a lot of competition as many other managers are vying for the position, with Jose Mourinho also believed to be interested in replacing the Scotsman.
Ferguson on Killer Instinct
Sir Alex Ferguson wants his side to demonstrate a killer instinct as they move into the final quarter of the season. The Red Devils have failed to win in their last two games, losing to Real Madrid in the Champions League and drawing against Chelsea after being two goals up in the first half of the quarter finals of the FA Cup. United are currently 12 points ahead of second placed Manchester City in the league table and need a flourish at the end, to secure their 20th League title.
"Where I think we can improve is that we don't seem to kill teams off.We've beaten Wigan 4-0 on two occasions but those are the only matches we've won by that sort of margin [ahead of the Norwich clash]. In a normal season, I'd expect a few more wins by that sort of distance. Last year, we won 5-0 against Wolves, Wigan, Bolton and Fulham, and we beat Arsenal 8-2, of course," he said.