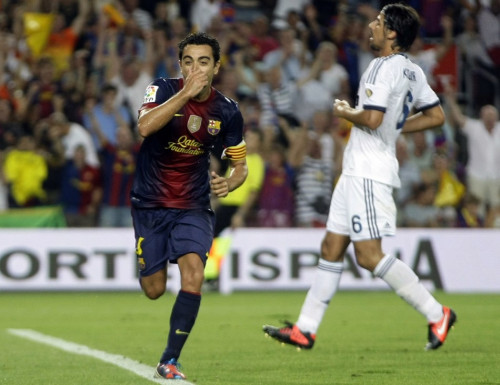 Manchester United's hopes of signing Barcelona midfield star Xavi have suffered a blow after the Spain international admitted that he would never leave the Catalan club.
The 34-year-old was linked with a move to Old Trafford in the January transfer window after the midfielder admitted that he would not finish his playing career at Camp Nou. Xavi came up through Barcelona's youth system and has spent his entire career with his current employers.
Xavi confirmed that he was aware of the rumours linking him with a move to England as Arsenal, Chelsea, Manchester City and United were interested in his services.
However, the Spaniard admitted there were no concrete offers from the Premier League giants.
The World Cup-winning midfielder claims his heart was always set on continuing with Barcelona and that he has no plans to leave his current employers.
"There was always talk United or Chelsea or [Manchester] City or Arsenal wanted to sign me but never anything concrete. My thinking was always clear. I am such a Barcelona fan, so my first, second and third option is always Barca. I never thought of leaving like Cesc Fabregas, who went to Arsenal," Xavi told The Sun.
"I want to be here forever. If I am not at Barcelona, I will always be thinking of Barca. If I had played for City, United, Arsenal or Chelsea, I'd keep asking what is going on at Barca – my club."
"All the big English clubs know getting Xavi is impossible. They know Xavi is fan of Barcelona, he won't come," he added.
Meanwhile, Xavi revealed that he would have loved to play in England as he believes the Premier League players receive more respect than those featuring in the La Liga.
"I have no regrets at all, but I still think at times that I would have loved to play in England. You "live" football over there. People respect you more," the Spaniard said.
"It's more difficult to find respect in Spain. There is more criticism here. In England, a player who has won many things is more respected than in Spain. It has not happened because my dream, my feeling and my idea was to be at Barcelona. Forever."