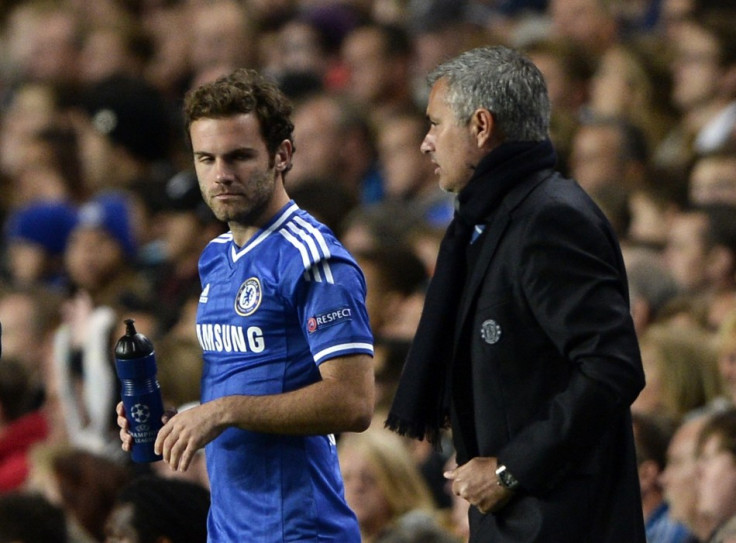 Manchester United midfielder Juan Mata insists there are no hard feelings between him his former manager at Chelsea, Jose Mourinho, saying he feels no satisfaction watching his ex-boss flounder. Mata spent two-and-a-half years at Stamford Bridge, winning the club's player of the season award twice as he quickly became a fan favourite.
But following Mourinho's return to the club in the summer of 2013, the Spain international fell out of favour with the Portuguese coach and left the club to join United in January 2014. Mata previously revealed in an interview with El Pais that a breakdown in his relationship with the Blues manager played a significant role in his decision to leave the club. Despite that, the 27-year-old is sympathetic towards his old manager and club.
"No, I am not that kind of person," Mata told Goal. "I am a person who doesn't think bad about other people or feel happy when other people don't get results. I am just happy because of what I am living, because my life is good. I am happy where I am and nothing else. I don't like to think about others losing or not performing well. No, no, I am not that kind of person.
"I always said I was very grateful for Chelsea. I spent an amazing time of my career there, we won a lot of trophies, and I think I became a better player. I have great friends in the club and I always wish the best for them.
Mourinho now finds himself in the biggest crisis of his managerial career, with Chelsea sat just six points above the relegation zone having lost seven of 12 league games this season. Having already been given a "vote of confidence" from Roman Abramovich, the club's horrendous form have inevitably sparked talk of the manager being sacked.