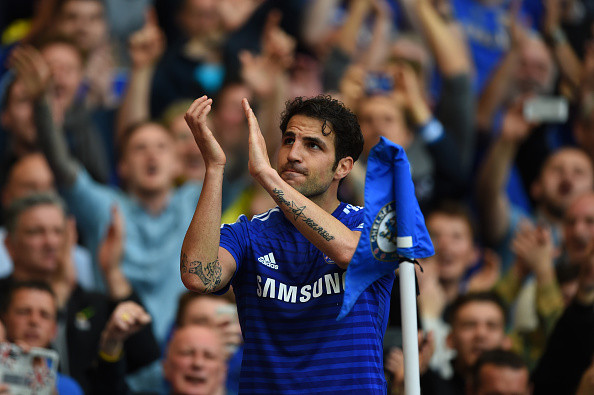 Cesc Fabregas has admitted an empathy with the playing styles of Luka Modric, James Rodriguez and Toni Kroos, but said it is "a question for other people" if he would fit in at Real Madrid. Catalan media has quickly pounced on these quotes, believing that the Chelsea star would be open to making a shocking move to Barcelona's arch-enemy, echoing the consternation felt among many Arsenal supporters when he signed for the Stamford Bridge outfit.
Fabregas was previously linked with Real Madrid during his time at the Emirates Stadium, despite coming through Barca's prolific La Masia academy. He eventually opted to return to the Nou Camp, but having failed to make the impact expected he came back to England to star for Arsenal's rivals, Chelsea.
The Spain international has said in the past that he feels more at home in the Premier League than La Liga, but has now refused to distance himself from a future at the Bernabeu.
Asked during an interview with Cadena Cope whether he would fit at Real Madrid, Fabregas replied: "I don't know.
"I like the profile of the players they have, like Modric, James and Kross. I identify with them but you do not have to ask me these things to me but other people. I do not know if my profile would be seen among those players."
Fabregas also backed Cristiano Ronaldo to rediscover his best form, despite the Portuguese star being criticised for recent sub-standard performances, with many suggesting the 30-year-old is in the downswing of his career.
"You can never say it's over when you speak about a player like Cristiano. He has been at the top flight for the last 12 or 15 years and has always been among the best. He may have not had his best month, or maybe he is not feeling well, it happens to everyone because footballers are not superheroes. I'm sure that at the end of season he will have the same good numbers as he has had in recent years"
In another interview with Onda Cero, Fabregas expressed his admiration for the style of Real Madrid, both under Carlo Ancelotti and with current manager Rafa Benitez
"I liked the way Real Madrid played under Ancelotti, it was attractive [speaking] as a football fan," he said. "But I also understand that it is Real Madrid and they need to win every year so you can understand that it [his sacking last summer] happens when they go one season without winning, but I liked the football under Ancelotti."
When questioned about the Spanish giants' 3-2 defeat against Sevilla, he said: "The other day the first half for Madrid was very good, especially the first half hour, but maybe they should have gone more for the second goal that would have killed the game.
"In the second half it was completely the opposite. But that has happened to [Chelsea] this year too. We have started games well and taken the lead and then things become a little more difficult; we start to play deeper and that is what cost Madrid."