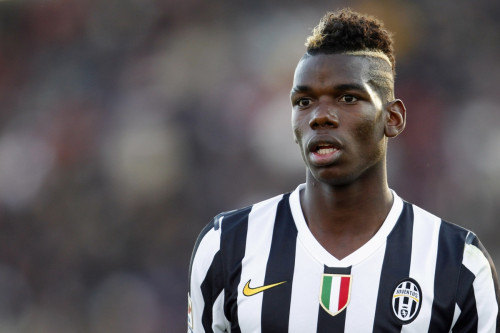 Manchester United continue to feel the effects from the premature departure of Paul Pogba after Gianluigi Buffon joined Zinedine Zidane in expressing his disbelief at the Premier League champions allowing the French midfielder to join Juventus in 2012.
Former manager Sir Alex Ferguson's refusal to accept terms offered by Pogba's agent Mino Raiola saw the French protégé swap Old Trafford for Turin for a nominal fee, having made just seven first team appearances for United.
Pogba is thriving with Juve, claiming the domestic title last season while this term five goals and three assists in Serie A sees him as one of the hottest properties in Europe and comes at a time when United's own midfield resources are wafer thin.
Reports suggest United are interested in bringing Pogba back to the club – with David Moyes' chief scout Jimmy Lumsden having watched Juventus' 4-1 win over Cagliari on Sunday - however with Ferguson remaining as a director following his summer retirement the 20 year old is unwilling to consider a return.
Ferguson's indulgence of a myriad of young players during his 26-year United tenure means his treatment of Pogba, who never appearance from the start following his controversial move from Le Havre, was inconsistent with his youth policy.
Moyes stated upon his appointment on a six-year deal at United that he wished to continue the club's tradition of promoting young players from within and his faith in Adnan Januzaj, who has featured 21 times for the club this season, is evidence of that promise being put into practice.
But the Scot has inherited United's shallow midfield options and despite the deadline day trolley dash which saw the addition of Marouane Fellaini, Ferguson's decision to allow Pogba to leave is coming back to haunt the English champions.
Juventus goalkeeper Buffon has taunted United as the Italian giants continue to enjoy Pogba's burgeoning talent: "He is one of those players who leaves you speechless," the Italian World Cup winner said.
"When he came we didn't know him but after only three or four training sessions we were impressed by his enormous qualities. My team-mates and me looked at each other as [if] to say 'Are they blind in Manchester?'"
Pogba is expected to play a leading role in Didier Deschamps' France squad during the summer's World Cup finals and Zinedane Zidane, a scorer of two goals in the 1998 final against Brazil, says United made a "mistake" allowing him to leave.
"The word 'mistake' is not something you would normally associate with Alex Ferguson's time at Manchester United," Zidane told the Sunday Mirror.
"But I do think it was a mistake letting Paul Pogba leave.
"He will go on to be one of the best central midfield players in Europe and he was the natural successor to Paul Scholes, someone they could have built the team around."
Naturally, Pogba's recent performances have sparked interest from throughout Europe with Zidane, now assistant coach to manager Carlo Ancelotti at Real Madrid, claiming "everybody" wants to land the France international.