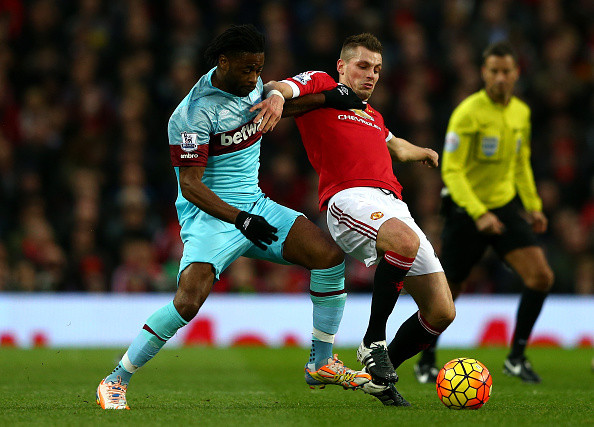 Manchester United midfielder Morgan Schneiderlin has admitted his disappointment at not being involved in the Premier League title race, after joining the club from Southampton last summer with "big expectations" of winning the tournament. The French midfielder, nevertheless, believes his first season at Old Trafford has had plenty of positives on a personal level, adding that the best for him is yet to come.
The 26-year-old star moved to Louis van Gaal's side in the summer as one of the most sought after midfielders in the Premier League following an impressive campaign with the Saints. Arsenal and Tottenham Hotspur were also linked with his services, but United beat all them for his signature after paying a fee in the region of £25m ($35.1m).
Schneiderlin made the move in the hope of helping United fight for the Premier League title. However, despite Van Gaal's side being 16 points behind leaders Leicester City in the table, the midfielder believes his decision was right, as he has made a good progress on a personal level.
"When I first came I had big expectations and, of course, I wanted to play for the title and I wanted to have a big impact straight away on everything. It's a new philosophy and a new thing to take on board," the midfielder said to MUTV.
"I had some good games and a good spell but there's a lot of competition and so even in my time when I didn't play every game I was still learning, still trying to improve and doing my best.
The Frenchman has finally found his feet with the Mancunians, starting 21 Premier League games so far. He says he is happy with his performances to date, but believes the best is yet to come.
"Since the weeks went on in the season I've felt better and better and of course I know I have plenty more to show to everyone and plenty more in my locker."
United have long waved goodbye to any chances of winning the Premier League title, in a seson where they were also knocked out earlier than expected in both the Champions League and the Capital One Cup. However, Schneiderlin says they still have much to do in the final part of the season as they are in contention to secure a top-four spot and even to win the FA Cup, with quarter-final replay at West Ham United coming next week.
"We look game by game, we're not looking too far ahead but we know that we have some big games coming, like Leicester and Tottenham and the FA Cup and we want to win everything and make sure we finish very strong," Schneiderlin added.
"Of course we are all disappointed not to play for the title, but in football you never know what can happen so we will try to finish as strong as possible. Hopefully the teams who are in front will drop some points and we can capitalise on that."