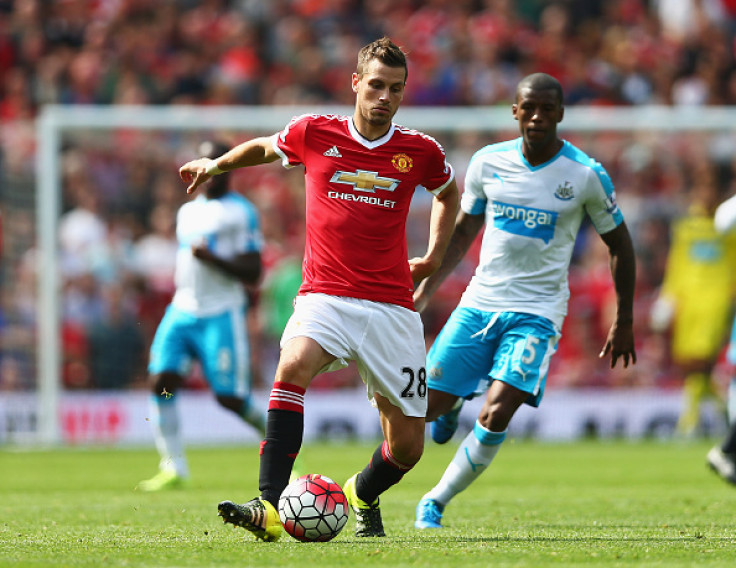 Manchester United manager Louis van Gaal has admitted that Morgan Schneiderlin still has some way to go before he proves himself a top quality player for the Red Devils, despite being an experienced Premier League campaigner with Southampton. The Dutch manager maintained that he will need more time to adapt to the reach the level practiced at the Old Trafford club.
The French international joined the Red Devils from Southampton this summer, and will return to his former club when United face them on Sunday, 20 September. He spent seven years at the Saints and helped them get promoted from the Championship to the Premier League in 2012, before completing his dream move to the 20-times English champions.
Schneiderlin has been impressive since his debut for the Red Devils, but has recently lost his place in the team for United's clashes against Liverpool and Club Brugges. Van Gaal, however, is confident that the midfielder, who is competing for a place with Champions League winners Michael Carrick and Bastian Schweinsteiger, will improve as the season goes along, while pointing out that the Frenchman has played more than the aforementioned duo thus far this season.
"For a player from Southampton, it is a big step to move to Manchester United and get used to how we prepare," Van Gaal said, as quoted by the Daily Mail. "Very few teams play or prepare for matches the way we do. That is a part of the procedure."
"He is doing very well and I expect he shall improve every week. It is not always easy but he is coping with that because he is a thinker. When you think about the game it is easier to cope," the Dutchman explained.
"He has high competition and it is not easy for him, but he has played more than both Carrick and Schweinsteiger," he added.