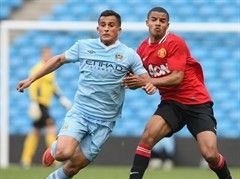 Tottenham Hotspur defender Zeki Fryers has broken his silence over his departure from Manchester United last summer and blamed Sir Alex Ferguson for what transpired, reports the Daily Mail.
The 20-year-old has revealed that he felt disrespected at United after being offered a £1,500-a-week deal, despite being quoted a £6m price tag when Tottenham asked about his availability. The left-back is currently understood to be earning £20,000 a week at White Hart Lane.
In the summer transfer window, Fryers was actively tracked by Tottenham, where he went on trial for a week. But Spurs failed to agree on terms with United, who were demanding compensation of around £6m. Fryers had rejected a new deal at Old Trafford but according to Premier League rules, the buying club had to pay compensation for U-23 players as demanded by the parent club, though the player was a free agent.
The rule does not apply to foreign clubs and Fryers was able to move to Belgium side Standard Liege on a free transfer. However, in controversial circumstances, the England U-21 international moved back to England in January by joining Tottenham for a reported fee of £3m, saving on an equivalent amount if the north Londoners had bought the youngster directly from United.
Ferguson believes that Tottenham and Standard were colluding throughout the deal, and has expressed his disappointment at the north London club's behaviour in the matter. The Scot has also asked the FA to look into the transfer.
"They tried to buy him off us and we'd been looking for a certain figure. They wouldn't pay it but asked if they could take him down there on trial and, at that time, he was out of contract in June anyway. So he went down on trial and he went to Portugal with them. They then said they weren't prepared to pay the money and, all of a sudden, he signed for Standard Liege," the 71-year-old said.
However, both Standard and Tottenham have denied allegations regarding any foul play involved in the transfer and attributed Fryers' return to England to a case of home-sickness.