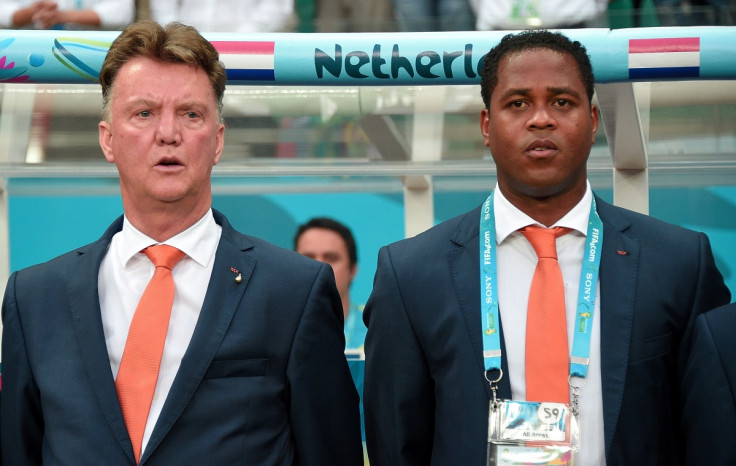 Patrick Kluivert believes Louis van Gaal's reputation has saved him from being sacked by Manchester United. The Red Devils' Dutch manager has come under huge pressure in recent weeks, owing to a series of disappointing results and performances, and his fellow countryman has admitted he is fortunate to have kept his gig.
Kluivert, who served as an assistant on Van Gaal's Netherlands staff at the 2014 World Cup, said Van Gaal has been afforded more time at the club than his predecessor David Moyes.
"If his name were not Louis van Gaal, maybe he would have lost his job by now," he said of the United manager, according to ESPN. "When you look at the previous guy at Man United [Moyes], he was not given so much time. So if he didn't have as big a name, maybe things would have been over for him much quicker."
Kluivert, 39, thinks Van Gaal has the capacity to change United's fortunes if he is given the opportunity to do so. "They still have chances to enjoy a good season, but we know the pressure of being at a club as big as Man United," he said. "You have to be successful or you cannot stay.
"From my experience working with him as a player and then an assistant coach, I still say Louis is one of the best managers in the game. He needs time and I hope they give it to him."
The Dutchman added that Van Gaal has a proven track record and has urged United officials to persist with the manager until the end of the season at least. "At the moment, things are not working out for him and that will be frustrating," he said.
"You do not smile so much when the fans and the media are saying you are under pressure every day. I would say that you look at the career he has had and it shows his ways can be successful. That is a reason why United need to wait and see what happens with Van Gaal this season."