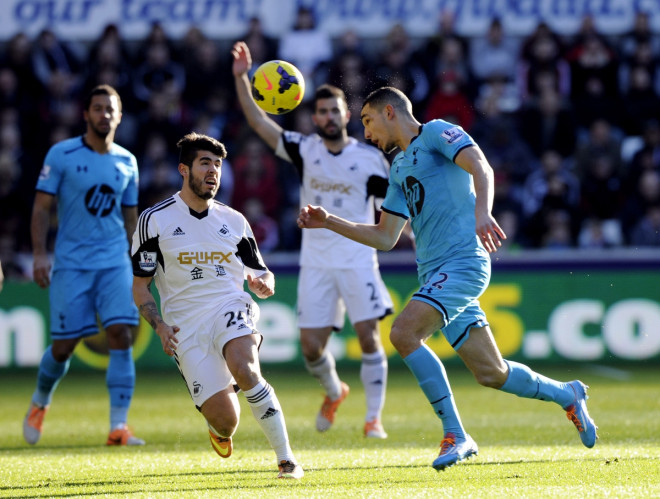 Manchester United are planning a summer swoop for Tottenham prodigy Nabil Bentaleb, according to the Metro.
The 19-year-old has been slotted into the first team this season where he has shone under the guidance of Tim Sherwood.
The midfielder has been among the positives to come out of Tottenham's season, which is on the verge of implosion after a sordid display against Chelsea where they lost 4-0.
David Moyes is keeping a keen eye on his progress and has asked his scouts to keep him informed and the former Everton man will weigh up a bid at the end of the season should he find the player suitable to his needs.
Spurs have been a happy hunting ground for United in recent years, having bought the likes of Michael Carrick and Dimitar Berbatov in recent years from north London.
The Algerian, who is expected to be called up to the World Cup, is reported to be available for a fee in the range of £10m, which shouldn't be a problem for Moyes, who has an abundance of funds to splash this summer.
However, with both teams expected to miss out on the Champions league, it will be on Bentaleb to decide his future. Tottenham have been unbeaten against United season season, drawing at White Hart Lane while winning the away fixture at Old Trafford.
Meanwhile, Sherwood has warned his players by stating that their future depends on their performance in the next few games.
"They know how I am and how I felt about what happened. We are moving on, you can't dwell on it. They are all men, they all appreciate that I am singing it from the heart, not from the script – I'm not an actor, I work on impulse," Sherwood said.
"I'm never going to take a step back. I'm just going to shoot from the hip. That's what I'm like. I'm a manager, not a babysitter.
"A lot of players here are playing for their future and I think they realise that now. I'm going to have a good look at the whole squad and see who I need to keep and who I need to bring in.
"They have that chance between now and the end of the season to prove they want to play for a giant club like Tottenham.
"I want players here who want to play for the club and they have between now and the end of the season to show that they are playing for their club and not for themselves.
"I don't think at any football club a player should be doing them a favour by playing for them," he concluded.