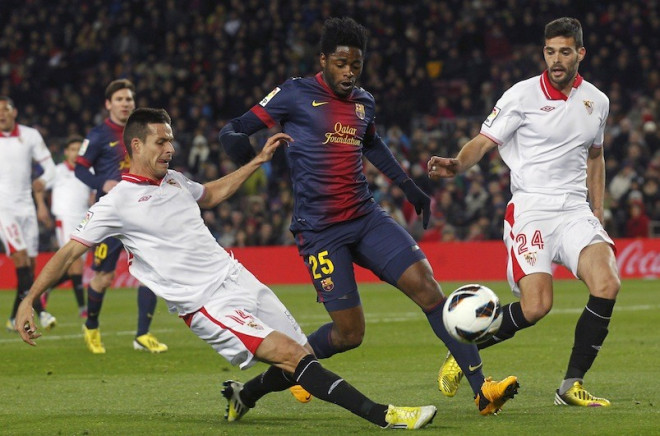 Manchester United are planning to bring back Alex Song to the Premier League in the summer, according to the Mirror.
The former Arsenal man made the trip to Nuo Camp in the beginning of last season but has failed to seal a place for himself in the squad on a more consistent basis.
The midfielder has made only 32 appearances thus far and has also been linked with a move back to the Emirates.
The Cameroon international, who was willing to fight for his place in Spain has decided that he is willing to move in the summer should a suitable offer present itself and is interested in making the trip to Manchester United, where Moyes is interested in his services.
Moyes is looking to strengthen his side in the summer and has been linked with moves for Toni Kroos and Ilkay Gundogan to strengthen his midfield.
However, with the Red Devils on the verge of missing out on Champions League football, Moyes is keeping his options open should he fail to land any of his high profile targets.
Song's arrival will give them some much needed solidity in midfield and a good creative option from deep, with the player displaying his creative seeks in his final season at Arsenal where he made 13 assists.
His familiarity with former Gunners striker Robin van Persie will be an added plus for Moyes, who has seen the Dutchman fail to perform under his guidance this season.
Meanwhile, the Red Devils will take on Olympiacos in the round of 16 tie of the Champions League with the manager bullish of their chances after seeing off Crystal Palace 2-0 in their premier league game last weekend.
"It isn't always the best teams that get to the final in Europe. Liverpool in 2005 gives us hope, but in any cup competition you always have a chance. I knew it was going to be a hard competition before it started. Bayern Munich, Barcelona, Real Madrid and PSG are all top clubs," Moyes said.