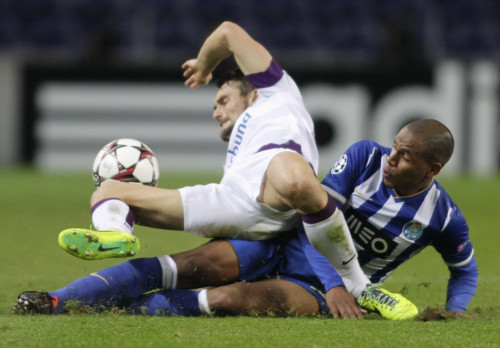 Manchester United are planning a bid for Porto midfielder Fernando as David Moyes looks to further strengthen his squad ahead of a gruelling battle for a top four spot, according to the Mirror.
The Red Devils completed a record £37m move for Juan Mata from Chelsea and are currently looking at other possible targets in January as they look to bridge the gap between themselves and Liverpool, who are currently six points ahead.
Tottenham and Everton are also in the race for a Champions League spot and Moyes knows that he needs some massive influx of investment into his current squad if he has to keep them in Europe.
The defensive midfielder is expected to be available for a fee in the range of £7m and will be a good stop-gap option for Michael Carrick, who is currently out with injury.
Liverpool are also interested in the player and were reported to have open talks with the Brazilian ahead of a possible move in January. However, with United hot on the heels of the 26-year-old, Brendan Rodgers may be preparing himself for yet another heartbreak in the same lines as Mohamed Salah.
Moyes has been linked with moves for Toni Kroos and Arturo Vidal but are unlikely to land them in this window, with both players happily settled in clubs leading the title race in their respective leagues.
Fernando's arrival will provide some much needed cover for the back four, which has been cut open far too easily at times as was demonstrated in their loss against Manchester City at the Etihad and their failure to make the final of the Capital One Cup owing to their loss over two legs to Sunderland.
Moyes has revealed that he has the money to make a splash and insists that there will be many high profile signings to come in the future.
"I don't think we will have any more [new signings] in January - I'm still working on it and looking to do so. Hopefully it will be the first of some new signings who will arrive more likely in the summertime. We see this as the start, we have to look to improve and I'm going to try to bring in some new players to make that happen," he said after the official confirmation of Mata's arrival.