On an April afternoon at Old Trafford last year, Ander Herrera succeeded where so many others failed during Chelsea's 2016-17 Premier League winning-campaign. Eden Hazard was unable to escape the Manchester United midfielder's shadow that day, completely nullified by what was a complete man-marking job from the Spaniard who also went on to seal the 2-0 victory with a second-half goal – having also provided the assist for Marcus Rashford's opener.
Herrera has failed to provide such imposing performances this season, but with Chelsea returning to Manchester this Sunday (25 February) there was hope he could replicate that performance and silence the Belgium international once again.
Those hopes were ended when the former Athletic Bilbao midfielder limped off just 17 minutes into Wednesday's Champions League tie against Sevilla. Speaking at a press conference on Friday afternoon, Mourinho confirmed the unspecified knock has ruled the midfielder out for "a few weeks."
The timing is dreadful, with how United's midfield currently operates under real scrutiny at the moment. But Mourinho's persistent shows of faith in Scott McTominay however suggest he could trust the 21-year-old with that same job on Sunday - perhaps the most important one on the pitch.
"Genius" and "fundamental" are just some of the terms the United boss has bestowed upon the United academy graduate in recent weeks; three of his seven starts this season have come in United's last five matches having turned in another adept performances away in Spain on Wednesday.
It might not have been the thrilling midfield display many United fans have yearned for, but McTominay dutifully followed orders. If Mourinho does plan to deploy the same tactic to contain Hazard, he is unlikely to see a better candidate within his squad than the young Scot.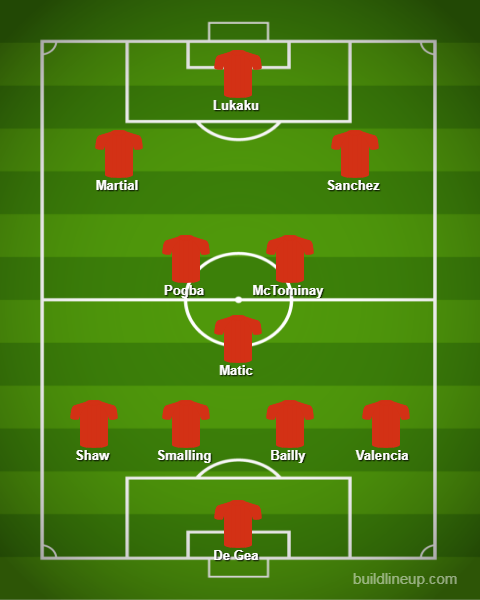 Paul Pogba's "professionalism" was praised by the manager during the pre-match press conference having recently raged against reports of a falling out between him and the France international. That didn't stop him starting the game against Sevilla from the bench – but with midfield options limited with both Herrera and Marouane Fellaini absent, a return to the starting XI surely beckons.
Mourinho confirmed on Friday none of the currently injured members of his squad are ready to return against Chelsea, meaning Phil Jones and Marcos Rojo are both still unavailable. Eric Bailly returned to the squad against Huddersfield Town last Saturday but did not make it off the bench in Sevilla – his first start in almost four months could await this weekend.
Another disastrous evening for Chris Smalling in Spain could prompt the change, although Mourinho has shown he is willing keep faith in the maligned England international no matter what, having started him in the club's six matches to date against top six opposition in the Premier League this term.
Anthony Martial meanwhile has started from the bench in each of United's last two matches. Prior to Alexis Sanchez's arrival, he was United's in-form player, scoring in the first three games of 2018 but has not returned to his favoured role on the left since then. United have since struggled as a cohesive, attacking unit in that time. Could it be about time for Sanchez start out on the right?