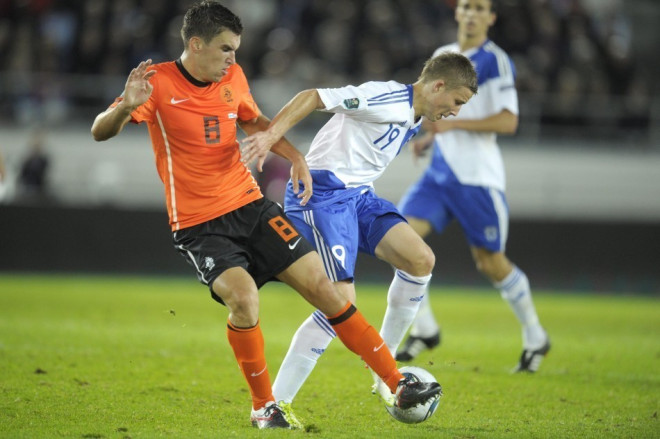 Manchester United are preparing a move for Kevin Strootman in the summer, according to the Sunday People.
The Dutch international has been ruled out of the World Cup with a knee injury but is expected to be fit by August. Louis van Gaal, who is the favourite to take over as the new United manager, has made the £30m midfielder his prime target in the summer as he looks to bring United out of their slump and into winning ways.
The Dutch manager heralds the 24-year-old as an important member in his national squad and was devastated when the player was ruled out through injury.
United already have Robin van Persie in the side and have also been linked with a move for Bayern Munich winger Arjen Robben to complete the trio of prodigious Dutch talent.
Dubbed the Dutch Roy Keane, Strootman will give United some much needed steel in midfield which has been lacking this season. United have also been linked with a move for Toni Kroos, but with Bayern unwilling to sell, have earmarked Strootman as a more viable option for their squad.
Van Gaal will replace Ryan Giggs, who is currently acting as the interim manager following the sacking of David Moyes. The United legend is 40 and wondering whether to extend his career with the Red Devils or call it a day when his contract expires at the end of the season.
"I loved it the other night. I loved coming on and I still enjoy training, even though I have not done much of it over the last couple of weeks. I still enjoy it and I loved it the other night," Giggs told United's Official Website.
"A lot of things [need to be considered about playing on] like if the new manager wants me! If I want to put my body through another year of eating the right things, the discipline, another pre-season and do I want to go out still enjoying it and not go on a year too long?
"These are all things I have got to consider. It is probably easier if you have had injury problems. I have seen players who just can't go on and they are not training, they are just going out for games. I have never really had those problems. I have got to weigh up a lot of things," he concluded.