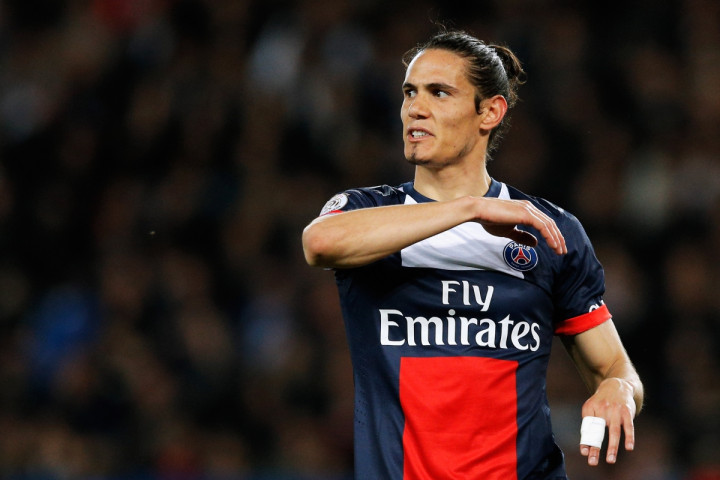 Manchester United are considering a bid in signing Paris Saint-Germain striker Edinson Cavani this summer, according to the Daily Mail.
The 27-year-old joined the Ligue 1 champions from Napoli last summer and is unhappy with his life in Paris after being played out of position. He made 30 league appearances for PSG last season, scoring 16 goals in the process.
The report claims the Red Devils have tabled a £56m bid in bringing Cavani to Old Trafford. The Netherlands manager Louis van Gaal will take over the managerial role at United after stepping down from his current post after the World Cup campaign with his national side.
The Uruguayan international was the second choice striker at Parc des Princes in his debut season, playing behind PSG star Zlatan Ibrahimovic. The South American star is uncertain about his future with his current employers, despite joining them only a year ago.
Cavani is on top of the former Barcelona and Bayern Munich manager's wish list and Van Gaal is preparing to overhaul the Red Devils' squad for the next season. After their poor season under David Moyes, United finished seventh in the league table.
The Old Trafford club will be out of next season's Champions League. The Daily Mail claims United were interested in signing Cavani since February and the Uruguayan striker is not keen on joining the Premier League outfit without European football.
Meanwhile, PSG president Nasser Al-Khelaifi had earlier admitted that Cavani is not satisfied playing out wide, but claims the striker is happy with the French club.
"Perhaps he is not satisfied with his position, but he is very happy in Paris," Al-Khelaifi explained.
"He wants to play as a central striker, but these things are for the coach to decide and maybe he will change the system for next season."
"Cavani is very important for us, with his style of play he is very unselfish and he won't leave. Our project is based on the long term and we don't buy a player to then sell him the following year," the PSG president concluded.