Manchester United striker Robin van Persie and Danny Welbeck were both left delighted after earning a 1-1 draw in the first leg of their Champions League last 16 tie with Real Madrid at the Bernabeu.
Welbeck headed United ahead after 20 minutes from Wayne Rooney's corner but the ever-dangerous Cristiano Ronaldo leveled 10 minutes later with a flying header.
David de Gea, who had earlier palmed Fabio Coentrao's effort onto the post, produced a succession of second half saves, denying the Portuguese full-back again before holding Sami Khedira's strike.
Despite Madrid boasted 29 shots on goal to United's 11, Jose Mourinho's side couldn't force their way through, handing United an advantage going into the second leg, and Ronaldo was left bemoaning the La Liga champions' fortune infront of goal.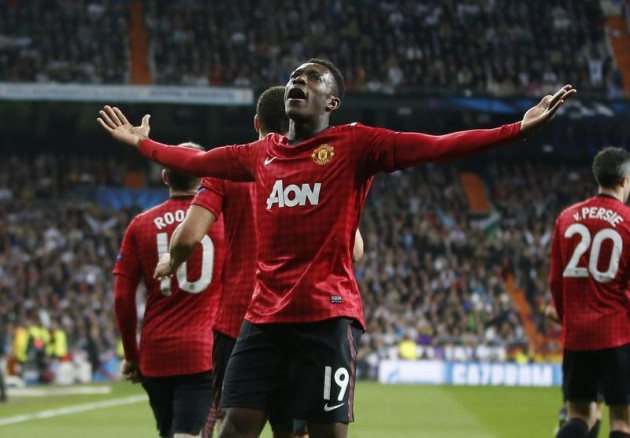 "It was a tough game," he said, according to BBC Sport. "They are a very strong team defensively. We played better and deserved to score more goals.
"I played in Manchester for six years. They welcomed me when I was a child and it's very special to play against them. I have a lot of respect for them. We will have chances in the second leg. We always try to take the initiative."
Xabi Alonso added: "After they scored we knew had to be very careful. They were very careful too, they are always compact when they play away and it was difficult for us to get chances.
"We need to go for a win, we can't approach the second leg thinking about a draw. We have to score goals at Old Trafford. It's not about the performance it was about the result and it could have been better."
Van Persie, who saw Diego Lopez turn his shot onto the crossbar and then Alonso make a goalline clearance within a matter of seconds, says United won't take their slight advantage for granted.
"We had a couple of chances and if you said we would have left here with a 1-1 at the beginning of it we'd have taken it," he said. "I thought it must have been a great game to watch.
"We have a slight advantage but at this kind of level it doesn't matter if it's home or away - it's half-time now and we'll be ready for the second half."
Welbeck said on his goal: "I knew where Wayne was going to put it and thankfully I put into into the back of the net.
"You come to the Bernabeu and it's a magnificent stadium, but we came to play the game and not just the occasion."