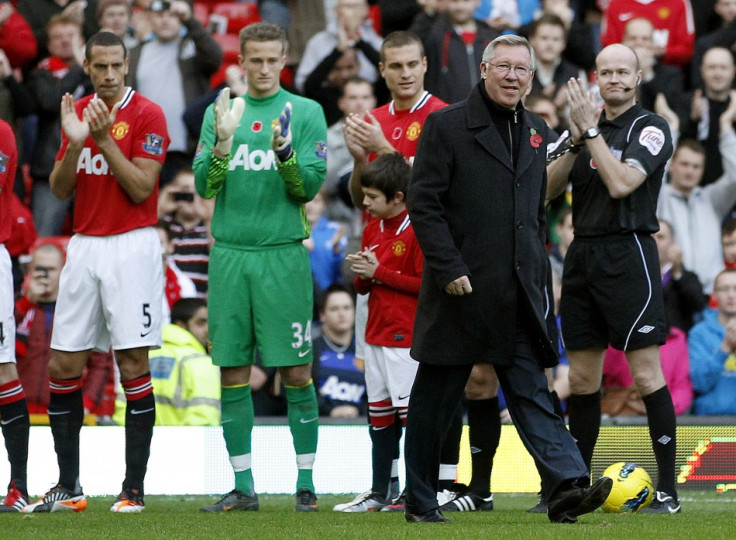 Manchester United captain Nemanja Vidic has slammed Rio Ferdinand's critics as "wrong" following the England international's improved display against Sunderland on Saturday.
Ferdinand, who is 33 today and was yesterday omitted from Fabio Capello's squad to face Spain and Sweden, has come in for fierce criticism over the last few weeks, most notably after a hugely disappointing showing against Manchester City, when Sir Alex Ferguson held him largely accountable for their humbling 6-1 defeat.
The centre-half was reinstated to the defending Premier League champions' starting line-up that faced Sunderland at the weekend, having been dropped for their recent victory over Everton at Goodison Park. It was the first time since the opening day of the season that Vidic and Ferdinand, a mainstay of the club's recent successes, were paired together and the duo excelled against Nicklas Bendtner and Connor Wickham prior to the latter's unfortunate injury.
Ferguson recently suggested his long-serving centre-half would have to adapt in order to prolong his Manchester United career, particularly given the increasing competition posed by the youthful trio of Phil Jones, Jonny Evans and Chris Smalling. Vidic though believes his defensive partner's contribution to the club over a sustained period of time should not be forgotten and certainly not while the England international, in his eyes at least, remains a top player.
"When you look at what has happened to Rio over the last few weeks, this is a player who played in most of the big games last season, helped us win the Premier League and reach the Champions League final, and yet after one game people are saying he is not good enough any more," Vidic told The Times.
"I think this is wrong and Rio showed that against Sunderland. He had a great game.
"His experience is important, especially when you have young players in the team and the players change a lot.
"Sometimes when you have been at the top for a long time like Rio has, people judge you on your age and they are waiting for one bad game to say he is finished.
"What he did today is the perfect way to show he is not finished. He showed strength of character and showed everyone that he still has the quality and ability to play at the top level."
Manchester United's unconvincing victory over Steve Bruce's side, which came courtesy of an extremely unlucky own goal from Wes Brown, extended their unbeaten run to four games following the Manchester derby debacle, and Vidic believes defensive solidarity has been key to the gradual revival.
"It was important we got the win (against Sunderland) because it was a special occasion for the manager, but sometimes these games can go wrong, especially after the last two weeks when there has been a lot of tension following the derby." said United captain Nemanja Vidic.
"After the City game, we realised we had to play as a team and we had to defend better. I think we have done that in the last four games.
"We take a lot of satisfaction from the fact we have won all four games but, if you look at the performances, we can definitely do better.
"You can't play great football, nice football, going forward all the time, because that allows teams to create chances. You have to find a balance.
"It is important to show solidity, to work hard as a team, and to keep clean sheets. This is the way that you win League titles and go a long way in the Champions League.
"But while we are trying to find that balance, the most important thing is to keep winning games."