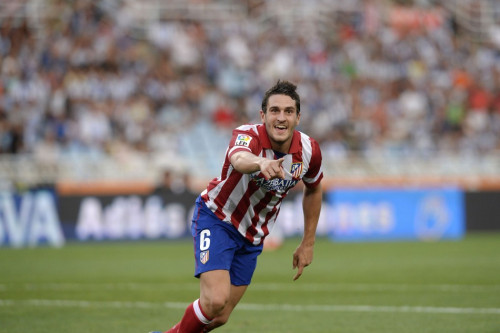 Manchester United are preparing a move in signing Atletico Madrid midfielder Koke in January, according to Goal.com.
The report claims the Premier League champions have sent a delegation to the Spanish capital to broker the deal as David Moyes is looking to bring the 21-year-old to Old Trafford in the ongoing transfer window.
United have sent three of the club's transfer brokers to Madrid to negotiate a deal with Atletico for Koke's signature. The former Everton boss was in attendance at Vicente Calderon during Atletico's 2-0 win over FC Porto in the Champions League clash late last year.
The Spanish club's sporting director Jose Luis Caminero admitted to have a conversation with Moyes, but refused to give more details on United manager's visit.
United have been closely monitoring Koke while in action for the Spanish side. The Spaniard has been in impressive form this season, scoring three goals and managing eight assists in 17 league appearances.
A source close to Goal.com admitted that United have sent their scouts to watch Koke's progress.
"The club have been monitoring his progress for a number of months and scouts have watched him a handful of times," Goal.com quoted a source as saying.
Koke is believed to be available for a transfer fee of £25m in January. Should United manage to land the Spanish midfielder, it is likely to bolster their squad for the second half of the season.
However, Koke has already featured in the Champions League with the Spanish capital club and any potential move to United will see him miss out on the European competition as both the English champions and Atletico have progressed for the Round of 16 of the competition.
Any move from United for Koke's services will not be an easy task for Moyes. The player's agent Inaki Espizua earlier admitted that his client is happy with his current employers and has no intention to leave Atletico in January.
"Koke is sure about what he wants for his future and is to be at Aletico Madrid. Right know he just thinks of staying at his club," Espizua explained.
"He is very happy here. It is nice when other clubs are interested in him because it means that he is playing well and he should be glad for that but he has no intention of quitting Atleticp," Koke's agent added.