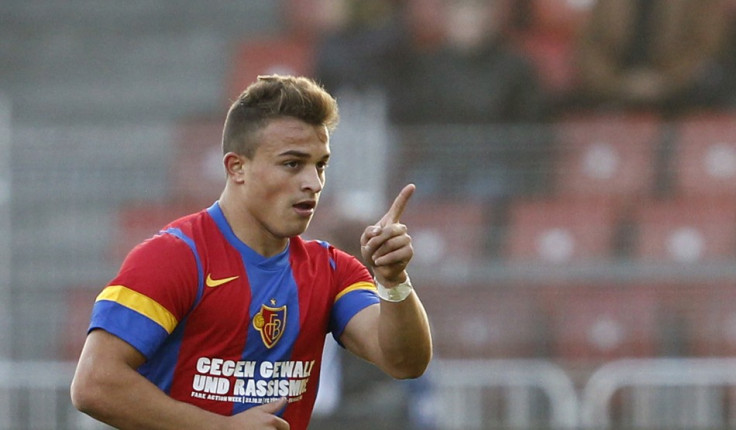 One time Manchester United target Xherdan Shaqir has given his take on why the English giants were thrown out of the Champions League, with the Basel star revealing they didn't take their opposition seriously enough in the lead up to, and during the match.
The Red Devils lost 2-1 to Basel in Switzerland, and though a draw would have been enough to send the side through, they were unable to equalise and as a result went out of the tournament before the final 16.
And now that United have been relegated to the Europa League, Shaqiri believes that they should have taken their opposition more seriously, despite having made the final of the Champions League the season before.
"They underestimated us," he said, as reported by Goal.com. "You could feel it in the tunnel and at the warm up: they weren't fully focused.
"I'm not sure a United player made even one sprint. And afterwards, you couldn't even swap shirts, they were gone that quickly."
Sir Alex Ferguson was bitterly disappointed that his side wouldn't be able to make a play for the Champions League trophy once more, but United insist that they are now focusing on winning the Europa League, with the side boasting a convincing 2-0 win over Ajax in their first leg of the last 32.
United also look to take a big hit to their bank account this year by being in the competition, with the Champions League providing a much more lucrative form of revenue than the Europa League.
Meanwhile, as Basel prepare to face Bayern Munich, Shaqiri says he's hoping to repeat his performance against United and come out an unexpected winner.
"Bayern are clear favourites but we will try to impose ourselves and, here at home, try to get something out of it, which means taking our chances. We need to play the perfect game, like we did against Manchester United," he said.
"The team, the city and the whole region are looking forward to it. It will be a great game and we have to enjoy it."