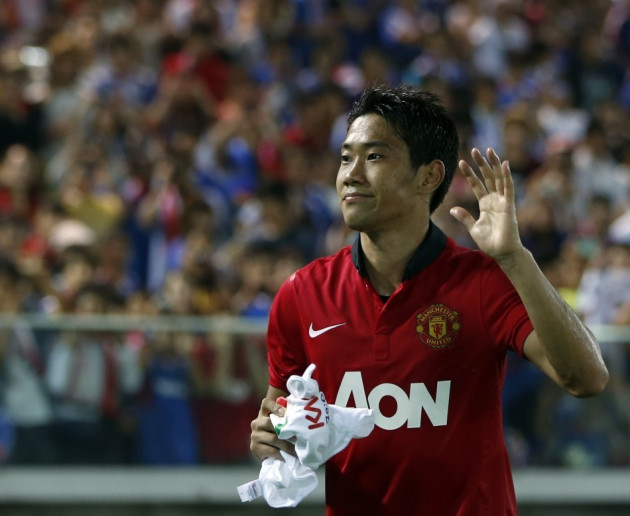 Manchester United midfielder Shinji Kagawa has revealed that he will strive hard to secure his future at Manchester United.
The Japan international has failed to live up to his expectations and has cut a peripheral figure in the side with new manager David Moyes yet to trust him with a midfield responsibility. The 24-year-old made a £17m move from Borussia Dortmund in 2011 but is yet to hit the same strides as he did with the Bundesliga giants.
The player was substituted at half time in United's 2-1 loss to West Bromwich Albion at home and was replaced by 18-year-old Adnan Januzaj. This was Kagawa's only start this season in the Premier League with Moyes previously insisting that the player was suffering due to a lack of match fitness. The Red Devils have made their worst start to a Premier League campaign, securing only seven points from their first six points and are currently eight points behind league leaders Arsenal.
"I have to take this like some kind of message (from the manager). I need to improve more and more, or I cannot survive at this club," Kagawa said.
"I have to take this in a positive way and keep trying to do my best. I thought that I would have been able to find some space to create the chances in the second half. In that sense I was disappointed (to have been substituted). Sure, I wasn't involved that much, I didn't touch the ball enough but I was trying to be patient so I didn't feel that bad," he added.
However, Moyes has insisted that the midfielder is in his plans for the future and insists that the Scotsman's idea to move him wide should not have any bearing on his performance.
"We want Shinji to feel that he's getting an opportunity to show what he can do. Arguably, his best position may be number 10 but I think for Japan he plays in the same position we're playing him just now. So it's not something which is strange to him or not his position but there's a lot of competition here and what we want is the competition to push each other on to get performances and improve," Moyes said.